Arusha gem centre set for Sh19 billion expansion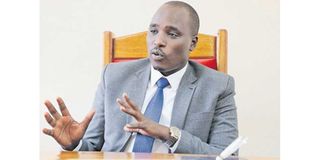 Summary
TGC is a vocational training centre which offered in-house training on gem and rock carving so as to enhance value addition
Arusha. The government will inject Sh19 billion for expansion of the Arusha-based Tanzania Gemmological Centre (TGC).
The cash will be spent to construction additional structures, including an eight floor building at is campus.
The first installment of Sh7 billion out of the total financial support (Sh19 billion) will be remitted soon.
"The tower will host lecture rooms for the growing number of students, among others," said the minister for Minerals Dotto Biteko.
He announced this here on Saturday during the first graduation ceremony of mineral polishers trained at the centre for long courses.
Dr Biteko said the government was keen to have sufficient number of experts in state-of-art mineral processing technologies.
Well-polished or cut minerals, especially the gemstones, added their value in the export as well as local markets.
TGC is a vocational training centre which offered in-house training on gem and rock carving so as to enhance value addition.
It was formed in 2003 as Arusha Gemstone Carving Centre until 2009 when the name was changed to Tanzania Gemmology Centre.
The changes were necessitated by expanded mandate of the centre to include gemmology, lapidary and jewellery training.
Massive expansion of the facility will see new hostels, training workshops, modern laboratories and a business centre for mineral dealers.
Dr Biteko said the government was keen to see the mineral industry embracing modern technologies in value addition. According to him, there are already three processing plants for gold in the country and 260 units of equipment of the same.
The gemstone sub-sector alone has a total of 417 machines for cutting and polishing of gems and rocks across the country.
The coordinator of the centre Daniel Kidesheni said a total of 274 students have graduated at TGC in short courses since 2014.
On Saturday, 38 of 78 who were enrolled for training at the facility in 2019 graduated and were conferred with diplomas.
It emerged that 40 of 78 students who enrolled for training could not finish the course because they could not raise the required fees.
Speaking during the ceremony, mineral dealers reiterated their call to the government not to relent on its fight against mineral smuggling.
Sammy Mollel, the chairman of the Tanzania Mineral Dealers Association (Tamida) said smuggling was a blow to the economy.
He added that the country has enough facilities for value addition to the minerals and wondered why some were smuggled out in raw form.