'I am the State' faults Magufuli's investments in Chato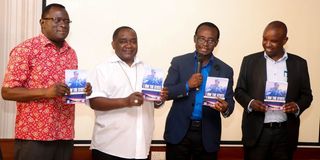 Dar es Salaam. Two years after President John Magufuli's death, a new book titled 'I am the State' has revealed the level of investments that the former leader injected in his native district of Chato.
'I am the State' which is likely to rattle feathers delves into some of the matters that many are uncomfortable still talking about
The book is jointly authored journalists Absalom Kibanda, Ansbert Ngurumo, Neville Meena and Jesse Kwayu who have been part of Tanzania's media landscape for a very long time.
The book puts into perspective the current situation in Chato district Magufuli's birth place after major development projects were directed there according to his wishes.
Among the things highlighted in the book are the animals that were relocated to Burigi which became a new park, the construction of the airport, major infrastructure improvements, construction of markets and other projects with property developers encouraging citizens to buy plots there.
The book also questions how the huge amounts of state money which was spent there would be the recouped, questioning what happened to the plan to turn the district into a fully-fledged regional administration.
Prior to the launch, Ansbert Ngurumo said the title of the book is derived from the fear witnessed after the administration of the late Dr. Magufuli since 2015-2021 directed many projects to the area where he was born without any approvals of relevant organs and no one ever questioned the rationale behind the spending.
The authors also say that apart from the investments that bore all the signs of selfishness that the leader made, they say that there was great oppression that he subjected the community to and sometimes made threatening statements to show that there was no one is above him.
"If you think you are that free, watch it," said Dr. Magufuli once told a gathering at State House.
Speaking during the launch the book, Bishop of Karagwe, Dr. Benson Bagonza said that the book should be a springboard for retired leaders and those in power to write books based on their good and bad deeds.
He said that "I am the State" shows how public funds were spent outside government budget and no one dared to question.
"The things mentioned in this book happened while the country was in the dark and people were silenced and what is written is only a small part of what happened in the country at the time," he said.