Prime
Lawmakers suggest ending corporal punishment in schools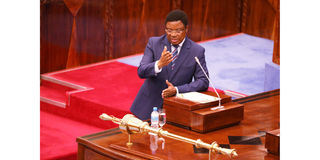 Summary
Last month, a video footage, showing a teacher in Kagera Region striking pupils on their feet for allegedly failing to complete an assignment, circulated through social media and the government swiftly responded by suspending the teacher pending investigations
Dar es Salaam. Some Members of Parliament yesterday raised questions that suggest a need for ending corporal punishment among school children and regulate home penalties after the recent incident sparked anger.
Last month, a video footage, showing a teacher in Kagera Region striking pupils on their feet for allegedly failing to complete an assignment, circulated through social media and the government swiftly responded by suspending the teacher pending investigations.
Prime Minister Kassim Majaliwa yesterday issued a statement in Parliament, explaining that already disciplinary measures were taken against the teacher.
"The government will not tolerate such kinds of punishment which violate the laid down procedures," he said, reminding the teachers of observing the guidelines.
According to him, the guidelines require caning to be done by the head teacher or other person authorized by the school head and should be documented in writing.
The punishment should not also exceed four strokes for each student.
The lawmakers who secured an opportunity to ask follow up questions suggested the ban on whipping in schools.
"This kind of punishment is creating unnecessary panic to public. Can the government draft a law to completely end corporal punishment in schools?" asked Mr Edward Kisau (Kiteto-CCM).
"Alternatively, it can be reduced to one stick," he added as other MPs applauded him.
"There are countries which have completely banned corporal punishment," said Mr Abdallah Chikota (Nanyamba-CCM).
"Considering the fact that we are currently reviewing the education policy, can we completely stop whipping in schools and find an alternative?" he asked.
In his response, the Premier said he considered the suggestion and promised to hear the position of other education stakeholders on the matter.
Opposition MP Conchesta Rwamlaza (Special Seats-Chadema) challenged Mr Majaliwa who warned the people who recorded the video of the teacher punishing the students.
"Sharing of the video exposed the incident and helped the government to take action against people who would have been otherwise protected by officials," she said, warning that the Premier's comment would accelerate covering of the violence.
Mr Majaliwa said his intention was to avoid unnecessary panic to the public and creating negative image against all teachers.
"The teacher who recorded the video would have shared it with education officials for action," he said, emphasizing on the strict following of the punishment procedures in accordance with the government guidelines.
Mr Saashisha Mafuwe (Hai-CCM) asked the government to regulate the way punishment was administered even in homes.
"Such kind of punishment does not only occur in schools, but also in homes. What's the government comment on that?" he said.
However, National Assembly Speaker Tulia Ackson did not allow the Premier to respond, explaining that it was out of the context.