Why coal exports to Europe could be short-lived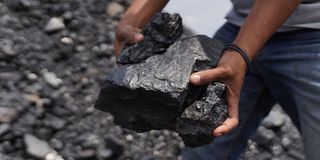 Dar es Salaam. Tanzania has seen a boost in coal exports, specifically to European countries as the West tries to grapple with the energy attrition and cost burden heightened by Russia's invasion of Ukraine. Russia is Europe's biggest energy supplier.
However, as COP27 nears, discourse on protecting the environment has become more ubiquitous, with European countries taking on the mandate as the global watchdog of the green transition.
Still, reality is betraying this ambition as external factors have forced the West to backtrack on some green targets.
The war in Ukraine has cornered Europe, prompting them to temporarily set aside green aspirations in a rush for coal as the region's energy crisis deepens. This has resorted to a ramping up of shipments from Australia, South America, Colombia, South Africa, and most recently, Tanzania.
Latest export figures show that the Tanzanian port of Mtwara which mainly dealt in cashew nuts until late last year, now bustles with vessels loading up with coal destined for the European market to countries such as France, Germany, Britain, and Poland.
Tanzania-based miner Ruvuma Coal has already exported at least 400,000 tonnes of coal via a trader to countries including the Netherlands, France and India, according to trade data. The vast consignment was a result of Ruvuma Coal Limited and Hong Kong-based Kenexon Company signing a contract for coal exports several months ago.
As the war in Europe has led to a worldwide race for the polluting fuel, the boost for Tanzanian coal, at least, faces an uncertain future.
During her visit to Tanzania, European Commissioner for International Partnerships, Ms Jutta Urpilainen, said the European Union is looking to scale down its dependence on fossil fuels, further adding that, as a matter of principle, "the EU doesn't finance any fossil fuel projects in partner countries."
The Commissioner's remarks cast a dark cloud over Tanzania's recent gains in coal exports. Despite prices for thermal coal used to generate electricity leaping to record levels in 2022, exporting the same to Europe might face some resistance owing to the green energy drive.
In implementing the agenda to scale down the use of polluting fuel, the World Health Organization (WHO) and almost 200 other health associations in September 2022 made an unprecedented call for a global fossil fuel non-proliferation treaty. The EU has echoed the same sentiments and is working on a mechanism to effectively and equitably ensure safer amounts of fossil fuel remain in the ground.
Tanzania's Energy Minister, Mr January Makamba, however, doesn't seem too happy with the latest policy developments in Europe, which in effect will impact Tanzania. "I heard about the Fossil Fuel Non-proliferation Treaty proposal. We are keeping an eye on the developments," said Mr Makamba during a brief dialogue with The Citizen.
The stance taken by global influencers on curbing the rising fossil fuel threat seems to heighten by the minute. "The modern addiction to fossil fuels is not just an act of environmental vandalism. From the health perspective, it is an act of self-sabotage," said the WHO president, DrTedros Adhanom Ghebreyesus.
The EU is currently pushing the green agenda on a global scale (and in Tanzania) under the European Fund for Sustainable Development aimed at promoting sustainable growth. During Ms Urpilainen's visit, the global partner granted Tanzania 110 million euros to unlock the country's blue economy, which includes tapping into the potential of the ocean and coastal economies (e.g. in fisheries/mariculture, forestry, renewable energies, and eco-tourism sectors) "while preserving the environment and biodiversity for climate and disaster resilience."
"This support for Tanzania goes hand in hand with our drive to preserve the environment. We want to support our African partners in investing in renewable energy," Ms Urpilainen said.
However, the practicality of the EU's green agenda seems to be at odds with global trends and energy demands. The stockpile of coal European countries are importing from Africa is testament to the current green energy contradiction.
Buyers in Europe and beyond are now vying to pay top dollar for coal from often remote mines in places such as Tanzania, Botswana, South Africa, and even potentially Madagascar, with some willing to pay twice the price quoted by Asian buyers.
The resurgent coal demand, driven by governments trying to wean themselves off Russian energy while keeping a lid on power prices, puts the EU's green agenda and climate plan under the microscope.
Ms Urpilainen maintains that EU member states are committed to the green energy plan despite efforts to mitigate the acute energy crisis, forcing them to resort to the use of coal. "The EU cannot rely on Russia for energy. We plan to become carbon-neutral by 2050. We plan to implement this carbon mission," said the EU Commissioner.
Tanzania earned around $2.3 billion in 2019 from mineral exports, a significant contribution to the economy. In 2021, mining and quarrying contributed extensively to Q1 GDP, with 10.2 percent.
In Tanzania, coal reserves are estimated to be 1.9 billion tonnes.