Alarm as high risk games gain ground on city roads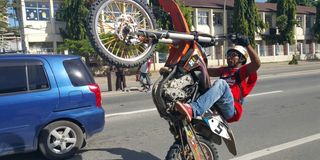 Summary
While bike stunts are permitted with special sports bikes for off-road use, it is against the law to ride them on public roads, according to the traffic boss
Dar es Salaam. The recent death of a famous stunt performer, who died in a road crash, reminded many of the risky games that are increasingly emerging on city roads.
The teen, known as "Junior," who had set records with daredevil motorcycle tricks like the one-wheeling ride, accelerated his bike and crashed into the windshield of an approaching car, killing him instantly.
Motorcycle playoffs, skating, jogging and the recent dancing in busy traffic intersections (zebra crossings) when the lights turn red are some of the games that residents and traffic regulators describe as dangerous pursuits.
"The government needs to stop these games; they are very dangerous and risky," said Dar es Salaam resident Ms Mariam Athuman, whose son died from motorcycle injuries during a failed stunt.
"He was a bodaboda rider…no matter how one is technically brilliant on a wheelie, it's dangerous. It shouldn't be encouraged, it should be stopped. In fact, all dangerous games on public roads shouldn't be entertained," she added.
Tanzania has recently noticed a spike in the number of social media posts featuring young people riding or wheelie-ing, which is actually reckless driving that leads to fatal road accidents.
"Similar incidents have been recorded in Arusha and Moshi, with the public calling for regulating the sport since it is done on public roads without notification to other road users," lamented Mr Amri Hassan, a Dar es Salaam-based bodaboda rider.
"These people earn a living through the sport, but there should be authorised parks. The riders should be aligned with road safety protocols and those dancing at traffic lights should immediately stop," he said.
Mr Hassan was of the view that one shouldn't trust drivers or bodaboda riders, as sometimes the latter don't abide by traffic regulations.
Although there are no records of injuries or deaths caused by dancing at zebra crossings, jogging, or skating on public roads, such activities are harmful to road users.
The traffic division has condemned stunt activities such as the wheelie trick, skating, and dancing on public roads, saying it has employed a "zero tolerance" approach on those spotted performing such dangerous pursuits.
Mr Ramadhan Ng'azi, the country's traffic chief, explained to The Citizen that regional traffic officers (RTOs) are tasked with monitoring all illegal activities that endanger road users in their respective regions.
"All road users are governed by road safety laws and regulations. Therefore, anyone who goes against them, is indeed a criminal like any other," the traffic boss noted.
"Reckless driving, riding, and skating, as well as hanging on moving vehicles and dancing on a zebra crossing, are all deemed to be offenses… anyone involved in such unlawful acts will be seriously punished according to the law."
According to him, while bike stunts are permitted with special sports bikes for off-road use, it is against the law to ride them on public roads, and that goes in line with other games, including skating and dancing.
"We have witnessed an increased pace of people with bikes riding them recklessly, employing stunts such as lifting up the front wheel whilst on the move or zigzagging when overtaking vehicles. This is unacceptable as it's risky to other road users as well," he noted.
The traffic chief added, "In fact, such acts have resulted in collisions with other cars, which end up causing injuries or deaths to themselves or to other road users. Let me say this openly: Their actions are against traffic laws, and we have organised ourselves to arrest them."
Mr Ng'azi has instructed the traffic and law enforcement officials to track and arrest those engaging in dangerous behaviours while riding their motorcycles, saying doing a wheelie is regarded as reckless driving.
"The road traffic law guides on the proper way of driving or riding and using the road, so when you're on the road, you have to make sure you don't cause harm to yourself or other road users," Mr Ng'azi emphasised.
"There are those who dance at the zebra crossing sections, which isn't a place for jokes. The sections are meant for pedestrians to safely cross. In fact, even drivers ought to stop and wait while pedestrians are crossing; they are to be prioritised."
The traffic boss further noted that it is against the law to block pedestrians' movement at a zebra crossing.
Dancing at a zebra crossing is illegal, according to traffic laws and regulations, and if caught, one would be liable to a fine and/or imprisonment.
Road traffic injuries are the leading killer of people aged 5-29 years, according to the World Health Organisation (WHO)'s Global Status Report on Road Safety.
In Tanzania, the latest WHO data shows that road accidents account for 6.12 percent of total deaths, with an actual count of around 18,054 deaths per year.
According to a joint research project conducted by the World Bank Group and the Global Road Safety Facility, 57 percent of road crash fatalities and injuries occur in economically productive age groups (15-64 years), with a male-to-female ratio of 2:1.
Recently, there has been a tendency among youngsters to make stunts at busy traffic intersections (zebra crossings) when the lights turn red. While some find it entertaining and enjoyable, law enforcement officials say it violates traffic rules and may cause harm in the event of a brake failure.
Skating is also increasing in popularity in the country's major cities, yet skaters can come into conflict with other road users and pedestrians, which is why police have banned the sport on public roads.
"There should be no skating in a manner that will cause danger to the skater or other persons. Where possible, rollerblades or skates should be used in playgrounds where there are special areas provided for the said sport," said Mr Ng'azi.
Despite the fact that it is against the law to put one's life or the lives of others in danger while using the road, several companies have been using skaters to advertise their products.
Although skaters are required to wear protective gear such as reflective vests, helmets, knee and elbow pads, and wrist guards, the majority don't gear up. This is illegal according to traffic regulations, and whoever is caught faces legal action.
For jogging, Mr Ng'azi said: "Jogging clubs will need to inform the police so that they are provided with officers, who will guide them. They should also wear reflective gadgets so as to reduce road risks."
"When using public roads, you need to be considerate of other users. We have also been using the same roads for our operations, but we always take precautions. The same has to apply to joggers. If there is a need to close that road, then the police will do so," he added.
Mr George Winburn, from G&W driving school, said: "Most of the driving schools in Tanzania don't offer motorcycle training, so the riders train themselves; although it is risky, eventually they improve."
He added: "Doing the wheelies requires practical experience that helps you control and balance the bike. No one should attempt a wheelie unless they have confidence in their ability to control the motorcycle through transferring weight and body position."
Mr Winburn was of the view that stunts on public roads are extremely dangerous. He insisted on having appropriate gears and said it should be done on special fields designated for such games.
For instance, lowering a front end to the ground after a wheelie is a risk for a crash, unless the front wheel is aligned to hit the ground in alignment with the direction the bike is going, he noted.