Ayano Fukumoto: Japanese volunteer teacher making mathematics simple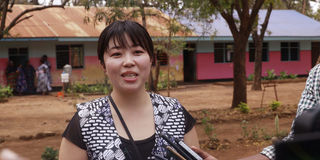 What you need to know:
The Japanese volunteer teacher who teaches mathematics at Karanga Primary School in Kilimanjaro Region has won recognition and pride from Tanzanian pupils and teachers for her teaching methods that attract pupils to love mathematics
Moshi. While mathematics is considered a hard bone to chew among Tanzanian pupils, a Japanese volunteer teacher, Ms Ayano Fukumoto, 33, has been applying different teaching methods to simplify the subject.
Ms Ayano, who teaches mathematics in Standard III and V at Karanga Primary School in Moshi District, Kilimanjaro Region, has been using different teaching methods, therefore attracting pupils to love the subject.
That is contrary to some teachers, who have been using strokes to forcefully enable the pupils to understand and love the subject.
Standard III and Standard V classrooms taught by Ms Ayano are fully decorated with different teaching materials that are displayed on the walls for the purpose of increasing pupils' understanding and learning at their' convenience.
The Japanese volunteer teacher has been using different materials for demonstration purposes, including manila sheets of different colours, to describe different mathematical principles, making it simple for pupils to remember and memorise.
Speaking exclusively to The Citizen, Ms Ayano says multiplication is a major challenge facing the majority of pupils in Tanzania.
She says the use of demonstration materials, including things that are used in every day's life—songs and dances—has been enabling the pupils to easily remember what they are taught and leave the classroom significantly activated.
"In order to reduce fear among the children, I always create a happy atmosphere in the classroom through the incorporation of sports among the pupils.
"When we come to multiplication, pupils have been forming certain shapes and deploying the use of songs, therefore enabling the pupils to improve learning in an interesting way," she says.
According to her, pupils who have been showing distinguishing capabilities in the memorization of multiplication tables were crowned with medals prepared by the Japanese teacher.
"In order to enable the pupils to understand the concept of volume and distance, I have led the pupils to measure the volume of water. We have been relating and differentiating between the distances, such as 100 metres and 1,000 metres," she says.
"My belief is that skills and knowledge cannot be achieved through the reading of textbooks, memorising mathematical formulas, and copying what is written on the blackboard," she adds.
She insists that in the upbringing of primary school children, deploying the actual experience was an important technique in the education sector.
Ms Ayano says she has started passing on mathematics techniques to other teachers at the school.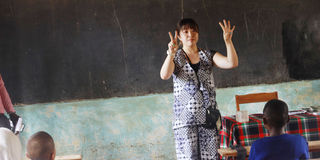 "My colleagues have shown interest in the techniques. However, they are not forced to adopt and use them in their classrooms; rather, they are free to choose better teaching approaches. This is because not all the time my techniques are better; that's why I also keep learning from others," she says.
Ms Ayano arrived and worked in the country from August 2019 to March 2020 before returning to Japan due to Covid-19 outbreak.
During that time, she taught at Masasi Primary School in Mtwara Region and Sanyajuu Primary School in Siha District, Kilimanjaro Region.
Ms Ayano joined Karanga Primary School in May 2023 after returning to the country with the support of the Japan International Cooperation Agency (Jica).
She says that in order for Tanzania to improve the quality of education, the government should collaborate with stakeholders to improve curricula and the quality of textbooks.
"Because I believe in investment in the education sector, there is a need to see whether the education budget could be increased and start using projectors during instructions in order to revolutionise the country's education," she says.
Regarding her fluency in the Kiswahili language, Ms Ayano says that before arriving in the country, she was enrolled in Kiswahili learning in Japan for a period of three months.
"Always, I have been sharing with colleagues the content of what I was planning before entering the classroom. The challenge remains my failure to understand communication from some of the pupils; therefore, I seek assistance from my colleague," says Ms Ayano.
After graduation, Ms Ayano was recruited as a primary school teacher at one of the government primary schools in Japan, where she worked for a period of 10 years before arriving in Tanzania to volunteer.
Pupils, teachers speak out
One of the pupils, Husna Olotu, describes Ms Ayano as a teacher who doesn't easily lose hope, noting that she is usually hurt once the pupils don't understand.
"Most of the time, we understand what she is teaching. In case someone doesn't understand, including me, Ms Ayano spared some time to provide additional and polite instructions," she says, insisting that she hardly gets discouraged.
"Those who don't understand also get an opportunity to be taught individually. She corrects pupils' mistakes politely without subjecting them to whipping," she adds.
A Standard V pupil, Abubakar Kinda, says Ms Ayano has been using demonstrative methods that are common to the pupils, including papers, and providing the pupils with different examples.
"I'm happy to be taught by teacher Ayano, whose teaching aims at enabling the pupils to fully understand the subjects. In case I don't understand, I always follow the teacher, who ensures that I fully understand the topic through the use of different examples," she says.
Karanga Primary School head teacher, Agustina Massawe, says Ms Ayano has been teaching at the school for the last five months.
"During that period, the pupil's understanding of the subject has significantly improved," she says.
Another mathematics teacher, Mr Tumsifu Sanga, says Ms Ayano's innovation and hardwork have transformed methods of teaching mathematics in the school.
"She is a very good teacher who loves her job. She has been working efficiently and innovatively. She is a very time-conscious teacher who never arrives late in the classrooms.
"Ms Ayano has shown efficiency and is disappointed by the child's failure to understand what is being taught. Sometimes she sits with the pupils; things are impressively celebrated by the pupils," she says.
Mr Sanga says pupils' development in the mathematics subject has significantly improved as compared to the past, when most of the students failed to memorise different formulas, including multiplication tables.
"But Ayano has come up with different methods that enable pupils to confidently memorise the list, therefore improving their performance," he says.