Catholic Church suspends priest accused of raping three children in Moshi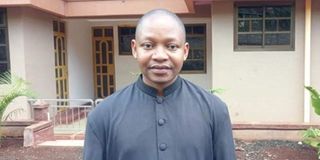 Summary
When the priest was brought to court this Monday, the Moshi diocese website also struck his name and photo off the list of native priests
Dar es Salaam. Two days after Father Sostenes Bahati Soka of Moshi, in Kilimanjaro region, was arraigned for allegedly raping three children, the Catholic Church has suspended him from providing spiritual services until the allegations against him are cleared.
Father Soka who was the parish priest of St. Deonis Aropagita's Parish, was brought before three different judges at the Resident Magistrate's Court in Moshi and the Moshi District, facing three counts of raping children aged 12 and 13.
When the priest was brought to court this Monday, the Moshi diocese website also struck his name and photo off the list of native priests.
Before he was brought to court, his name was together with seven fellow priests who were ordained in 2012.
Yesterday, TEC's secretary General, Father Charles Kitima told Mwananchi that due to the allegations, the Bishop of the Catholic Diocese of Moshi, Ludovick Minde has suspended the priest.
"For now, the Bishop has stopped him from providing priestly services until the court makes its decision. After that, other decisions about his priesthood will be made," replied Father Kitima.
Prior to that, Father Kitima was quoted by the BBC Swahili saying that the church will provide sufficient cooperation so that justice can be found for all parties in the case.
"Justice will take its course and the church will cooperate to ensure that those who have been wronged are treated fairly," he said.
Father Kitima said that in general the Catholic Church is against acts of sexual abuse of children, because it is supposed to be a safe place for all people.
"We admit that this is a problem, we have more than 3,000 priests in this country, but among them, you find those with weaknesses and shortcomings, that's why this happens," he said.
Father Kitima said (as the church) they consider the issue as a bad thing because it causes great doubts among parents and children.
He said that when children go for communion teachings, they hope that they will find someone who will nurture them spiritually, but when they are treated with things contrary to their goals, "it becomes a big disappointment".
"We as a church are disappointed with the bad behavior of individuals, which go against what we are expected to build -- to build a person with good morals," he said.
 Charges against the priest
In the first count, Father Soka is accused of raping a 12-year-old child, it is alleged that he commited the crime on August 12, 2022 in the Catholic Church Parish of Mt. Dionis Aropagita, located on Kawawa Road where he forcefully had carnal knowledge a 12-year-old child.
In another case, the priest is accused of raping another 13-year-old child in the same area of ​​the parish. The court also said the bail is open and asked the defendant to have one guarantor who will sign a bond of Sh2.5 million.
Likewise, in the third case, the priest is alleged to have raped a 12-year-old child in the same area of ​​the Parish. He fulfilled the bail conditions of having two sureties who signed the document of Sh2 million. The investigation of the case has been completed and it was adjourned until October 18, 2022.