Prime
Company emails put Tanzanian government officials on the spot over possible corruption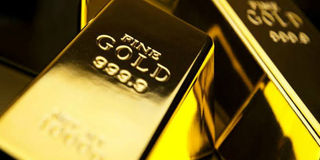 What you need to know:
Barrick's subsidiary, Acacia Mining paid more than $1.2 million annually to 60 Tanzania National Task Force officers that included intelligence operatives from 2008 to 2015
Dar es Salaam. Members of a police task force accepted payments from a prominent gold mining company in an arrangement that raises concerns about potential corruption and the intricate relationships between law enforcement and corporate entities.
A series of confidential emails obtained by a Canadian newspaper, The Globe & Mail, reveal a web of payments made to numerous individuals within the Tanzania's National Task Force (NTF) by Barrick's subsidiary, Acacia Mining, which formerly operated three gold mines in Bulyanhulu, North Mara, and Buzwagi.
Acacia paid more than $1.2 million (more than Sh2.5 billion) annually to 60 NTF officers from 2008 to 2015.
In a quick response, however, Barrick defended the payments, stating that they were proper "and supported the provision of important policing services which helped to prevent serious crime."
The e-mails and memos, obtained by The Globe and Mail after they were cited in a legal case currently underway in the High Court of Justice in London, show that Acacia executives were worried about the company's risk exposure because the payments could create the appearance of "undue influence" over Tanzanian public servants.
Among the former executives of Acacia Mining, Asa Mwaipopo, when approached to respond on the saga by The Citizen, stated that it would not be appropriate for him to comment on the matter without the consent of his former employer.
Mr Mwaipopo said; "Now that I am no longer holding any position in the company, it would be inappropriate for me to comment on the subject without their invitation or consent.
He added that the matter being in a court of law, it would be interfering if I talked or commented about it outside the court.
Mwaipopo was Acacia's Sustainability General Manager at the time. He also served as the CEO of Acacia Tanzania.
Emails and memos presented in court reveal graphic details of the funding for NTF officers. "It is understood that per-diem payments to the NTF are now budgeted at around $1.2 million," read one of the documents.
The task force, which included intelligence agents, police, and military officials, had its operation budget drawn directly from the Tanzania government's national budget and was responsible for monitoring and investigating any threats to Tanzania's critical infrastructure.
The Acacia gold mines were deemed to be included in its mandate, leading to Acacia's payments to the task force, although the company's emails complained of a lack of transparency about the NTF's activities.
The payments were, however, halted in November 2015 after Acacia's Chief Compliance Officer at the time, Nick Rowell, raised concern about the amount of money spent plus payments not included within the firm's annual reports.
In the London court case, ten villagers are seeking damages for alleged abuse by police and security guards that led to deaths or injuries at North Mara and its surrounding villages from 2014 to 2019.
On Thursday, Barrick responded to the Globe and Mail's article explaining the circumstances of the payments to NTF.
The response posted on its website (barrick.com) reads in part:
"As a major contributor to the local economy Acacia Mining Plc (the predecessor company to Barrick TZ Limited), entered into arrangements with the NTF in relation to its operations in Tanzania."
"These included a Memorandum of Understanding (MOU) in May 2014. This arrangement was entirely bona fide. All payments made under the arrangement were proper and supported the provision of important policing services which helped to prevent serious crime."
"Acacia, or indeed any Barrick entity, has never exercised control or direction over the NTF, the Tanzanian police or over any branch or agency of the Tanzania police."
"As the documents illustrate, Acacia continuously monitored compliance with all applicable laws."
"A decision was taken by Acacia to terminate the MOU (and the payments thereunder) in October 2015, and payments ceased to be made from November 2015. This decision did not reflect any breach of any applicable law."