CPS champions Africa's sustainable housing revolution at the Africa Climate Summit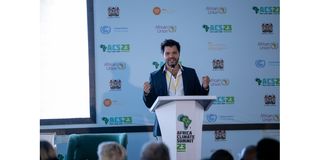 Sarit. On September 5th, 2023, at the Africa Climate Summit, the Center for Progressive Sustainability (CPS) took center stage in advocating for a revolutionary shift in housing construction practices across Africa.
Partnering with Gatsby Africa and the Embassy of Sweden in Kenya, CPS showcased a groundbreaking approach to building sustainable, safe, and equitable homes that could transform the continent's urban landscape.
In his address, Milan Heilmann, Project Manager at CPS, called out the environmental repercussions of conventional construction materials, stating, that it  irresponsible to continue building with concrete and steel, which contributes up to a third of all global emissions.
" We must build these millions of homes with sustainable and locally produced materials and educate future generations to keep the value chain within the country. From the tree to the house."
CPS's innovative approach places timber construction at the forefront, presenting a compelling solution that addresses the pressing housing needs, champions carbon sequestration, and elevates the quality of built environments.
This approach holds the potential to not only redefine cities but also to rejuvenate forests and uplift the livelihoods of millions of individuals across Africa.
The pivotal role of CPS in this endeavor underscores the power of cross-sector collaboration. Public-private partnerships are identified as a linchpin in bridging the gap between aspiration and implementation. Such partnerships are essential for channelling investments into sectors that may otherwise be overlooked.
Furthermore, CPS highlights the imperative of bolstering regional manufacturing capacity. This initiative will empower local growers by transforming the construction sector into a high-value manufacturing opportunity, providing access to high-value markets and propelling green industrialisation and economic growth across the continent.
As the Africa Climate Summit serves as a rallying point for stakeholders committed to a sustainable, prosperous future for Africa, CPS stands as a beacon of hope, showcasing a tangible path towards a housing revolution that safeguards the environment and drives inclusive economic growth.