CUF calls for 'passive resistance' in Zanzibar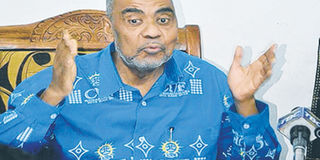 Summary
CUF leaders said their efforts to ensure that democracy and the will of the people were respected in Zanzibar were bearing "positive" results, and mentioned as a example the recent withdrawal of financial support by international development partners
Zanzibar. The Civic United Front (CUF) yesterday asked its supporters in Zanzibar to engage in "passive resistance" against the government led by President Ali Mohammed Shein.
CUF acting chairman Twaha Taslima and secretary-general Seif Shariff Hamad told a news conference that the party would not recognise the government that would be formed by Dr Shein.
Speaking at the end of a two-day meeting of the party's governing council, the two leaders said CUF and its supporters would passively resist the authority of the Zanzibar government.
But in a swift response, CCM deputy secretary-general (Zanzibar) Vuai Ali Vuai accused CUF of inciting people to violently oppose the government, adding that remarks by Mr Taslima and Mr Seif amounted to a call for a rebellion against a legitimate government.
He also questioned the rationale of the two leaders' call, saying it was foolhardy for CUF supporters who were public servants to undermine the government that had employed them.
"Our supporters can take any action they deem fit, as long as it won't be against the law, to show their resentment against those who have landed us in this situation"

CUF SECRETARY-GENERAL SEIF SHARIFF HAMAD
"Many of their supporters are public servants and people know them. What I can say is that the party does not wish its supporters who are public servants well," Mr Vuai said.
He added that the Zanzibar government was constitutionally elected, and people calling for civil disobedience were being driven by selfishness.
"As we are talking right now, Seif is still being looked after  by the government and yet he is urging people to rebel against the same government."
The two CUF leaders said their efforts to ensure that democracy and the will of the people were respected in Zanzibar were bearing "positive" results, and mentioned as a example the recent withdrawal of financial support by development partners who were unhappy with the political situation in the isles.
Mr Taslima said CUF fully supported the donor community's decision to withhold economic support for Tanzania.
"That should serve as a wake-up call to those in power. If they really care about those they govern, they should  move to find a lasting solution to the impasse, but we have heard them saying that the country will be just fine.  We therefore call for more stringent measures to be taken by the international community," said.
Mr Hamad said Zanzibaris should put relentless pressure on the government.
"We now need to go a step further and engage in passive resistance. Our supporters can take any action they deem fit, as long as it won't be against the law, to show their resentment against those who have landed us in this situation."
Mr Hamad added that there was still room for dialogue, but  said the party would not accept an invitation by Dr Shein for talks at State House.
"I hear people suggesting that Dr Shein should invite me for talks at State House.  It's absurd.  Why should I talk to him? For what purpose?" he asked.
Mr Hamad was speaking publicly for the first time since Zanzibar held the controversial March 20 election rerun in which Dr Shein was re-elected with 94.1 per cent of the vote after CUF and several other opposition parties boycotted the polls.
The repeat elections took place after the Zanzibar Electoral Commission (ZEC) annulled results of the October 25 elections, citing "widespread irregularities".
Mr Hamad, who was CUF's presidential candidate, held a news conference a day before the results were nullified and declared himself the winner.  He said the elections were cancelled after CCM realised that he had defeated Dr Shein. The decision to annul the elections was widely condemned by international powers, including the US, which last week withheld Sh1 trillion in development aid to Tanzania.
Yesterday, CUF commended all those who did not go out to vote in last month's elections in protest at the annulment of last year's vote, saying Mr Hamad was Zanzibaris' "genuine" choice.
"CUF also thanks and commends the international community for refusing to accept the grounds for the repeat elections. It is commendable that they have refused to be party to this flagrant defilement of democracy," Mr Taslima said.
He accused ZEC of being used by CCM, adding that they would never trust the commission as long as Mr Jecha Salim Jecha was its chairman.