Disclosure of extractive deals, company owners on the cards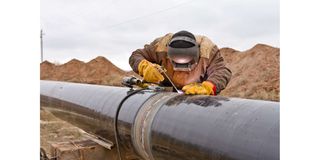 What you need to know:
The government and relevant stakeholders are preparing a framework on the kind of information that would be made public, possibly from next year
Dar es Salaam. Contracts in the oil and gas industry and the names of beneficial owners could be disclosed from next year.
The government and relevant stakeholders are preparing a framework on the kind of information that would be made public, The Citizen has learnt.
The legal team of the Tanzania Extractive Industries Transparency Initiative (Teiti) is preparing for an analysis of the basic areas that would be made public and the source through which the information would be available, according to Teiti chair Ludovick Utouh.
He told The Citizen yesterday that the analysis of such issues was difficult and required attention despite the fact that the law made transparency mandatory.
"We will also need to learn from other countries that are making such information public," Mr Utouh said.
He spoke on the sidelines of training of the Teiti committee charged with overseeing transparency and accountability levels with the aim of improving income and benefits from the sector.
According to Mr Utouh, there are 57 member countries on the Extractive Industries Transparency Initiative (Eiti), 28 of which are in Africa, with six now making contracts and names of beneficial owners in the extractive industry public
"So, we will need to learn their experience so that people can get information that is correct and at the same time keep under wraps commercial information that needs to be withheld.
"After that, we will meet with the stakeholders, which are government institutions, including the Tanzania Revenue Authority, Tanzania Investment Centre and Minerals and Energy ministries," Mr Utouh added.
MPs and activists have for a long time agitated for disclosure of contracts to ensure transparency and ultimately accountability in the sector.
While the Tanzania Extractive Industries (Transparency and Accountability) Act, 2015 called for transparency with regard to owners of extractive companies, the Business Registration and Licensing Agency (Brela) Act did not, leading to confusion.
In 2021, the government amended the Brela Act to make it mandatory for companies to disclose their beneficial owners.
"We met with Brela and made minor amendments to their law and we agreed to make public the names of all owners of companies in the sector, as well as disclose all mining and oil and gas contracts," Mr Utouh said.
According to Tanzania Petroleum Development Corporation (TPDC), there are 11 Production Sharing Agreements (PSAs) in the oil and gas industry, while at least ten companies have been issued with licences for large-scale operations.
The extractive contracts involve Shell Oil Company, Pan African Energy Tanzania (PAET), Heritage Oil, Ndovu Resources Ltd, Dodsal, Maurel&Prom Limited, Equinor and Swala Oil and Gas Tanzania.
Last year, Minerals minister Dotto Biteko said disclosures would soon be made, adding that Teiti had held discussions with Brela and the Attorney General's Chambers to discuss the best way to disclose information.
Natural Resource Governance Institute (NRGI) Africa regional director Silas Olang said disclosure played a key role in checking conflict of interest and promoting accountability.
"For example, a public servant who is supposed to licence gas companies could be owning shares in some of those companies. He or she cannot be expected to uphold justice, or hold that particular company accountable if it is undermining government revenue," he said.
HakiRasilimali advocacy and communication strategy project manager Lucy Shao said disclosure could help to prevent the depletion of Tanzania's resources through funding of conflicts and terrorist acts around the world.
A private consultant on international investment and trade law, Ms Roselian Jackson, told The Citizen that Brela could not positively identify the real owners of all companies in Tanzania.
"A conflict of interest for a certain company in Tanzania can be related to who has shares in the same company in another country," she said.