Dr Mpango kick-starts NMB campaign to plant one million trees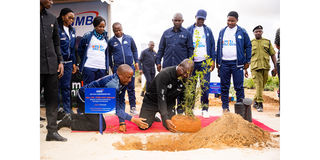 Dodoma. In the spirit of sustainable development and in support of the global cause to conserve the environment, NMB Bank has embarked on a grand afforestation project to boost the decreasing stock of trees in the country.
The nationwide green crusade, which was launched yesterday by the Vice President Dr Philip Mpango, targets to plant one million trees this year as part of advancing the bank's sustainability agenda.
Dr Mpango graced the ceremony to plant 3,000 tree seedlings in the Mtumba Government City suburb in Dodoma region, where he said afforestation and reforestation undertakings have now become inevitable and indispensable.
Dr Mpango said the NMB environment conservation initiative adds significant value to national and worldwide efforts to preserve the natural world and reverse climate change.
"The government alone cannot make Tanzania green, therefore every one of us should be involved in these concerted nature restoration efforts," Dr Mpango noted commending the lender for involving 189 schools across the country in its execution.
He said through such green investments, the goal to plant at least 1.5 million trees in every local government authority every year becomes feasible.
"Trees and a healthy environment touches all economic and development aspects of life which we cannot do without, therefore making Tanzania green is a must and a worthy investment," Dr Mpango stated.
NMB Bank is partnering with Tanzania Forest Service Agency (TFS) for professional guidance. It also works with several ministries, including the Ministry of Regional Administration and Local Governments (PO-RALG), to coordinate the participation of students in the project.
NMB Bank chief executive officer Ruth Zaipuna said the engagement of schools by organising a multi-million tree planting and caring competition dubbed Kuza Mti Tukutuze seeks to ensure the sustainability undertaking delivers the desired results.
Ms Zaipuna noted that the bank has earmarked Sh472 million for rewarding the winning schools with Sh50 million for the winner, Sh30 million for the first runner up and Sh20 million for the second runner up. All the participating schools will be awarded a certificate of recognition.
"The afforestation project you are launching today will be a continuous exercise to plant and take care of new trees, which starts with NMB and its stakeholders planting a million trees across the country in 2023," she told Dr Mpango.
"We strongly believe that this noble undertaking will benefit all of us in the efforts to mitigate the effects of climate change," she added noting that the investment NMB is making seeks to remind Tanzanians the relevance of environmental conservation in sustainable national development.