Experts say tax education needed to lessen collection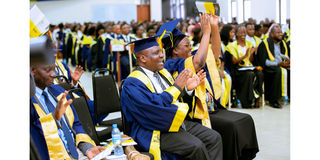 What you need to know:
Experts in tax administration say for any country to develop and excel in projects, there was need for trained personnels in tax collection
Dar es Salaam. Tax is one of the most important sources of revenue for any government to enable it implement various development projects and stimulate industrial economy which in turn brings about social and economical development.
For this to be realised, experts in tax issues say education on the importance of paying taxes was key to ease the process of collecting taxes by the government.
To ensure such move becomes fruitful, the Institute of Tax Administration (ITA), an integral part of the Tanzania Revenue Authority (TRA), was officially registered as a higher learning institution in 2007, and accredited in 2009 through the National Council for Technical Education (NACTE) Act of 1997.
ITA's Rector, Prof Isaya Jairo told The Citizen that training of tax experts helps the government to increase the collection of revenues.
"We have already introduced short and long term courses to meet tax experts demand," he said.
The courses, he said include; Certificate in Customs and Taxation Management (CCTM), Diploma in Customs and Taxation Management (DCTM), Bachelor in Customs and Taxation Management (BCTM), Postgraduate Certificate in Customs Administration (PGCCA), Postgraduate Diploma in Customs Aministration (PGDCA) and Postgraduate in Taxation (PGDT).
The institute, in collaboration with the universities of Muenster (Germany) and Dar es Salaam (Tanzania), offers a Master's Degree course in Law and Revenue Management, whose admission started in 2012 and already the ninth phase of admitted students graduated this month.
"This is the only such institute in the country and in East and Central Africa offering such courses, that focuses on tax and customs issues," he said.
He added, "To ensure competent professionals in tax and customs issues, the institute has introduced a system that aims at building student's competence by focusing on practical training."
According to Prof Jairo, the institute has also trained experts in tax and customs to sharpen students in the tax field while creating friendly environment for students to learn by having adequate classrooms, a library with book stockpiles at all levels.
He said the move has ensured that 80 percent of graduates at the institute get employment with TRA and other private tax consulting companies, clearing and forwarding firms while other professionals becoming tax consultants which reduces the number of unemployed graduates.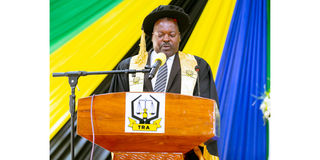 ITA's achievements so far
The rector said, the Institute has managed to forge partnership with other local and foreign institutes, as a modern way of running training institutions.
So far, the institute has partnership with the International Network of Customs Universities (INCU), the International Bureau for Fiscal Documentation (IBFD), the University of Dar es Salaam, the University of Muenster in Germany, African Tax Administration Forum (ATAF), East African Community (EAC); The Revenue Authorities of the neighbouring countries and Chr. Michelsen Institute (CMI).
ITA also cooperates with the Associations of Customs Agents in the country, which includes, the Tanzania Freight Forwarders Association (TAFFA), Zanzibar Freight Forwarders Bureau (ZFB) and the Federation of East African Freight Forwarders Associations (FEAFFA) in building the capacity to customs agents to effectively conduct their job with the needed effectiveness.
The institute has also a collaboration with revenue authorities in the Eastern and Southern Africa regions and the Universities of Tanzania and ESAMI university.
"These collaborations has made it possible to strengthen the ability of the Institute to conduct training and research including offering advisory services at a higher quality," said Prof Jairo.
He noted further that the cooperation with the universities of Dar es Salaam and Muenster, for example, has enabled ITA to conduct a Master's course in Tax Law and Management called the 'Master of Arts in Revenue Law and Administration (MA RLA)', benefiting TRA employees, business companies and tax consultants and Revenue Authorities in the neighboring countries.
The institute also also cemented relations with local institutions which includes; Zanzibar Revenue Board; Association of Tanzania Customs Agents, International Tax Audit Institutions, Offices of the Controller and Auditor General, the Attorney General and the Office of the Parliament of the United Republic, Association of Customs Agents Zanzibar.
Nchemba, chief guest at the Institute's 15th graduation
Prof Jairo also said ITA is holding its 15th graduation today, and the chief guest is expected to be the Finance and Planning minister Mwigulu Nchemba where at least 489 graduates from certificate level, diploma, degree and Master's degree are expected.
"When compared to 387 graduates last year, this is an increase of 25.1 percent," he said.