Extrajudicial killings leave families traumatised in 2018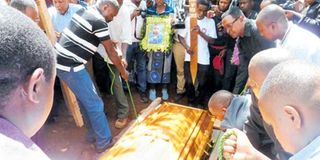 What you need to know:
It will take many years to prove allegations of killings of innocent people in the hands of the police, but this state of affairs is a cause for concern for peace lovers

Dar es Salaam. At the time of penning this article, the body of Frank Kapange was still preserved at the Mbeya Referral Hospital mortuary. Six months have already passed since it was brought there. The body has remained there due to legal wrangles pitying the deceased's family and the police.
Kapange, 21, died on June 4, 2018. His relatives claim that he died after being assaulted by the police.
The only thing that the relatives of the clothes hawker and self-described "street designer" have been asking for was an independent investigation into the death of their beloved son. The matter is already in court for a decision.
Mr Kapange's incident, dramatic as it may seem, was not unique and would be among several others that the Legal and Human Rights Centre's (LHRC) 2018-biannual report characterised as extrajudicial killings.
Extrajudicial killings, according to the LHRC, are those which involve law enforcement officers and which result from excessive use of force against civilians or suspected criminals, resulting into their deaths.
No incidents of extrajudicial killings were reported by the police in the first half of 2018, the centre notes.
However, the death of National Institute of Transport (NIT) student Akwilina Akwilini, in Dar es Salaam, in February 2018, was purported to be extrajudicial killing.
Akwilina was shot dead while aboard a public bus after police fired at demonstrating members and supporters of the major opposition party, Chadema, in efforts to disperse them.
Dar es Salaam Special Zone Police commander Lazaro Mambosasa insisted that the police acted in self-defence because the members were throwing stones. The incident attracted a big public outcry and called for justice for the student. Six police officers were arrested but they were later released with the police saying they lacked sufficient evidence to take them to court.
Chadema's top brass including its national chairman Freeman Mbowe, still face multiple charges at the Kisutu Resident Magistrate's Court in connection with the demonstration where Akwilina's death happened.
In another incident, Suguta Chacha, 27, was reportedly killed while in police custody in Mara Region. The incident happened in April 2018 and it was reported that the victim was stabbed with a knife by a police officer identified as William Marwa. The policeman was arraigned and charged with the killing.
In Mbeya Region, a fruit vendor, Allen Mapunda, 20, reportedly died a few hours after he was released from police custody.
The incident occurred on March 24, 2018 and the family members accused the police of torturing him, leading to his death, but the then Regional Police Commander Mohammed Mpinga insisted the man was not tortured. The then Mbeya-Regional Commissioner Amos Makalla ordered the RPC to investigate the matter and send a report to his office.
There were also calls for investigation in Parliament, with the Nzega Constituency MP Hussein Bashe (CCM) urging the Prime Minister's Office to form an independent inquiry body to probe into such incidents. Todate, there is no report about the matter that has been availed to the media.
In April 2018, Tanzania Prisons Services (TPS) announced that it had suspended 11 officers who were accused of killing a resident of Kirengo Village.
Aloyce Makalla, 41, was reportedly attacked and eventually killed when the officers went to his house and accused him of injuring their colleague. The incident happened in Korogwe District, Tanga Region on January 22, 2018.
Apart from these incidents which have been documented and reported by the LHRC, there have also been those that were reported in the local media and may qualify to being extrajudicial killings and that were not covered in the LHRC report. For example, there is that which involved the family of Salum Kindamba in Dar es Salaam which for two weeks boycotted picking the body of their relative who had allegedly been shot dead by the police in what the police explained as a foiled robbery attempt.
And in September 2018, two such deaths were reported in Tabora and nine police officers were reportedly being held for allegedly assaulting a 22-year-old meat trader Selemani Jumapili.
Another incident happened in Mufindi District in Iringa Region where the police were accused of shooting dead a passenger in a truck after the driver of the car disobeyed police orders to stop.
A call for independent investigation
The recurrence of these incidents has been prompting human rights activists to call for authorities to resort to transparent and independent procedure to establish the truth so that justice would prevail.
According to Home Affairs minister Kangi Lugola, however, transparency in the procedure was what was being practised. Mr Lugola rejected the idea that anyone who died in police custody must have been killed by a police officer. He reiterated his stance that death was a trap and it could occur to anyone at any place. "That's why we undertake investigations anytime incidents of this nature happen in order to find out what exactly transpired," he said.
When asked what had their investigations found out so far, Mr Lugola said that they were still ongoing and hence yet to be concluded. "I cannot say," said Mr Lugola when asked when would the findings come out. "These investigations which involve murder cases often take time as they need to be carried in a fair and independent manner."
Lawyers and human rights activists have been calling for authorities to start using coroner's courts to probe such deaths, which have shocked the nation in recent months.
Tanzania enacted the Inquest Act in 1980, which established coroner's court to probe into deaths of a person reasonably suspected to have died violently or of unnatural causes or those who die suddenly for causes which are unknown.
The court also has powers to inquire into the death of a person who died while in official custody or those found dead in such places and circumstances as to require an inquest.
There has been an endless trend in recent months of deaths of people who were arrested by the police in good health, but died in the hands of police or in hospital shortly after they were released.
Nevertheless, Mr Lugola said anything could be done if it was deemed necessary and if all options had already been exhausted. At present, he added, that demand has not arisen yet.
LHRC said in its report that it was very concerned with the recurrence of these incidents, which it said they indicated excessive use of force by police officers while apprehending criminal suspects.
"Law enforcement officers are expected to be models for other members of the public in abiding by the law," warned the report, "not being the first to break them."
Mr Tito Magoti is an assistant programme officer, human rights and business at the LHRC who thinks that there is a need to strengthen the institutions established to ensure the adherence and respect of human rights and justice in the country.
The Commission for Human Rights and Good Governance (CHRGG), says, it was best poised to play a significant role in putting these incidents to a stop.
"It could investigate these incidents and provided recommendations on the best way they can be resolved," he said.
"But first it is important that the commission is provided with a chairman and commissioners." The CHRGG has been without chairman and commissioners since October 2017.
Magoti also thinks that there is a need to empower the citizenry so that they can demand justice for the deceased and accountability of the suspected perpetrators.
Mr Onesmo Olengurumwa, the coordinator for the Human Rights Defenders Coalition (THRDS), told The Citizen that armed force-associated killings were real and the magnitude was terrifyingly higher if looked at collectively.
"Unnecessary use of forces by the security organs has left tens of families being bereaved with others struggling for justice to be served over the killing of their loved ones," Olengurumwa shared.
He called this a chronic problem which must not being perpetuated.
"Instead of killing them," Ngurumwa urges, "the security organs entrusted with responsibility of protecting people's safety and of their property should do just that and if it happens they do otherwise justice should be seen to be served to perpetrators."