Family confirms death of Tanzanian in battle fields of Ukraine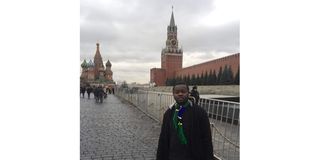 Summary
Tarimo's body was supposed to be brought back home several weeks ago but that is yet to happen and they are still waiting.
The family of Nemes Tarimo, 33, a Tanzanian national who reportedly died in the battle fields of Bakhmut, Donbas, Ukraine, fighting on the Russian side, has confirmed his death, saying they are waiting to receive the body of their loved one for burial.
The news of the death of Nemes spread along with a video showing him being given a military farewell by the armed forces in Russia.
Both local and Russian embassy officials are yet to comment on the issue, which comes a few weeks after Zambian national Lemekhani Nyirenda, 23, also died in the battle fields of Ukraine.
According to the family, Tarimo died at the end of October, and they were first informed by close friends at the end of December that their son had died.
Later, they received official information from the Tanzanian Embassy in Moscow.
According to close associates, Tarimo was arrested for a drug-related case and was serving a prison term. After a while, he was given the choice to join Wagner's group and was promised to be released after six months of fighting on the battlefield.
They say that Nemes had travelled to the Russian Federation for postgraduate studies at the Russian Academy of Technology, MIREA.