Foul play tales on Sokoine's death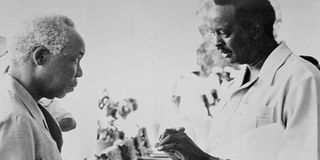 What you need to know:
There was also an acute shortage of consumer goods with things like sugar, soap and salt. Clothing and shoes were so scarce that people had to, literally, wear rags.
Dar es Salaam. 1984 was an eventful year indeed in the history of Tanzania. It was also a difficult one. Famine had ravaged the country and left people surviving on "Yanga" maize, the yellow maize grains that had been supplied by the US government as relief food.
There was also an acute shortage of consumer goods with things like sugar, soap and salt. Clothing and shoes were so scarce that people had to, literally, wear rags.
Politically, however, the first months of 1984 were momentous because of presidential succession politics. It was the first time since independence that the President of Tanzania had indicated he was going to retire. Since 1980 President Julius Nyerere had repeatedly told his close aides and diplomats that he was thinking of retiring. By early 1983, it was clear within CCM that his time was up. And this ushered vigorous succession politics and power plays.
The question of who was going to succeed him became the subject of speculation. And Tanzanians being people with a love for political intrigues, power-struggles and conspiracies, got a most welcome topic for discussion in vijiwe, barazas, tea-rooms. It was the start of intrigues, speculation and rumours which are now common every ten years when a general election looms.
So by late 1983, several personalities were being named. The more credible profiles were three; Prime Minister Edward Moringe Sokoine, the then CCM-secretary general Rashidi Kawawa and the then Zanzibar President and vice-president Aboud Jumbe Mwinyi. There were some other prominent Cabinet ministers being named and some were thought to have harboured presidential ambitions. These include Cleopa Msuya and Salim Ahmed Salim.
Excitement and intrigues started early in January 1984 when Jumbe was forced to resign from all his party and state posts. Some academicians think the forced resignation had something to do with succession politics. Prof Haroub Othman, for one, writes that when Jumbe became aware that Nyerere had Sokoine in mind as successor, it might have troubled him. And so the feelings that he would fail in the presidential bid might have been the driving force to the political troubles of Zanzibar in 1983 and which led to the forced resignation.
Jumbe's resignation left Sokoine and Kawawa as the major figures in the succession plan. It is evident, however, that due to his strong anti-corruption stance, his leadership style and his youthful looks and energy, Sokoine, who was 46 at that time, seemed the clear favourite. Wananchi too seemed to prefer Sokoine to Kawawa, analysts say. And then tragedy struck. On April 12, 1984 when Sokoine was travelling from Dodoma to Dar es Salaam by road, he died in an accident.
The circumstances of the accident started immediately to be considered by many as mysterious. A section of the population found it difficult to accept the reality that Sokoine was truly no more; the sudden death became the subject of countless conspiracy theories.
One theory described Sokoine as the victim of his war against economic saboteurs whom he had mercilessly fought, and presidential politics. So, the theory goes, some politicians conspired with filthy-rich economic saboteurs to strike he tightened the noose around them. This, according to the theory, could benefit both the businessmen in their illicit undertakings and the politicians who thought Sokoine was blocking their path to the presidency.
Another theory said some corrupt politicians—corruption had already started entrenching itself by then—feared that Sokoine would go after them when he became president and so they eliminated him. And yet, according to another theory, some envious politicians just eliminated Sokoine to increase their chances to Ikulu.
Notions that Sokoine's death was plotted found its way to books. Mohammed Ali Bakari calls Sokoine's death mysterious in his book The Democratisation Process in Zanzibar: a Retarded Transition. He does not substantiate the claims but puts Sokoine's death in the same category as the assassination of Mahatma Gandhi and Israel Prime Minister Yitzhak Rabin. Ludovick Mwijage also claims in his book The Dark Side of Nyerere's Legacy that Sokoine was "bumped off" for reasons of political expediency. He also does not substantiate the rumours but adds, "moreover, it is claimed a South African was employed in order to avoid having to use a Tanzanian. After all, that might have provoked tribal sensitivities in a unitary country." Dorothy Hodgson also says in her book Once Intrepid Warriors: Gender, Ethnicity and the Cultural Politics of Maasai Development that Sokoine was killed "in a suspicious car accident."
In fact, the rumours of foul play in Sokoine's death have refused to die. From time to time one is bound to hear one line or another of the conspiracy theories emerging. And it's not only in Tanzania where Sokoine's mysterious accident are still alive. When the wife of former Zimbabwe Prime Minister Morgan Tsvangirai was killed in a car accident in 2009 Zimbabwean media reported that the then Public Works Minister Theresa Mokone, a friend of Mrs Tsvangirai, had demanded a probe, saying her friend's death was as mysterious as that of Sokoine in 1984.
One of the reasons the rumours have refused to die is because they have been left to continue. Lack of public investigations into Sokoine's accident is one of the major reasons.
Roads are cleared when a prime minister travels by road in Tanzania. Other vehicles, which are not part of the convoy, can veer into the motorcade only when there is a security and protocol failure on the part of escorts. The timing of the accident also raised eyebrows at the height of presidential succession plan.
In similar situations elsewhere, unnatural death of a high profile figure like Sokoine would definitely prompt a public investigation. Surely there were international investigations. But circumstances demanded that they be made public, especially if no foul play was detected. If only to clear the doubts and quieten the rumours.
It is obvious to the public that circumstances of Sokoine's accident were weird. This was evident even from some of President Nyerere's close family members. Veteran journalist Attilio Tagalile writes that when Sokoine's body was taken to State House at 5pm on the same day of the accident drama broke out. The casket bearing his body had been placed at the lobby near the western entrance of Ikulu. President Nyerere came, paid tribute, broke down in tears and was led away by his security detail. Then Joseph Nyerere, the President's younger brother, appeared.
He went straight to the place Sokoine's body lay. "The sight of Sokoine's huge body appeared to have shaken him to the core. He broke down and wailed: Mwalimu huna ulinzi. Waziri Mkuu anakufa barabarani? (Mwalimu have you no security? How can your prime minister die in a road accident?") writes Tagalile who adds that the younger Nyerere was quickly whisked away by bodyguards and driven out of the State House.
The perception that Sokoine was killed also fueled other rumours that he had "risen from the dead."
and started appearing before several government officials. Some of the wierd rumours had it that Sokoine was severally seen in the Karimjee Gardens building where Parliament sessions were held when it was Dar es Salaam's turn to hold the meetings. One possible moral of these rumuors were that Sokoine was coming back to haunt those who "plotted" to have him killed in the accident.