Prime
Geita MPs demand roads as mining exhibitions end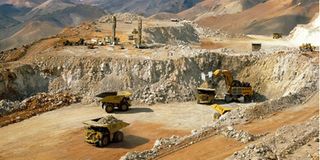 What you need to know:
While the region boasts numerous mines, the inadequate development of roads significantly drives up production costs for miners.
Dar es Salaam. Geita Members of Parliament yesterday asked the government to improve infrastructure in the region that is endowed with minerals.
Speaking during the closing of the mining technology exhibitions in Geita yesterday, Mr Tumaini Magesa (Busanda-CCM) and Mr Idd Kassim (Msalala-CCM) said much as the region has many mines, roads were not properly developed, thus increasing production costs for miners.
"People have raised the concern for a long time about the Geita-Kahama road, which has a length of 133.9 kilometres. Mining stakeholders have come forward to build it at the tarmac level, but there has been a delay from the government executives," said Mr Magesa.
Mr Kassim said the road has been allocated funds by the Bulyanhulu Mine and they are ready to start construction, but the government has been dilly-dallying.
"There has been a delay in local content and community social responsibility (CSR) projects. We have closely monitored and seen that companies implementing CSR projects do not have a problem but the problem lies with our government executives. There has been a delay in setting the conditions for their implementation," said Mr Kassim
"I ask the second Vice President of Zanzibar to convey these greetings to President Samia Suluhu Hassan and the Minister for Minerals. We are going back to parliament and will query when construction of the road will start," he added.
Speaking of small-scale mining, Mr Kassim said that despite the law allowing some imported mining equipment to be tax-exempted, no policy allows a small-scale miner to be exempted from the same, therefore asking the government to enact a policy without discrimination to benefit all.
Geita Regional Commissioner, Mr Martine Shigela, said that the biggest cry of the people of Geita is the construction of the Geita-Kahama road and that in the case of Kahama - Kakola, the process has been completed and the tender has been announced. He requested that the remaining process be expedited so that the construction can begin.
Closing the exhibition on behalf of President Samia Suluhu Hassan, the second Vice President of Zanzibar, Mr Hemed Suleiman Abdullah, said the 2030 vision of the mining sector, themed "Mining is Life and Wealth" aims for mineral research through geophysics to be done in the country by more than 50 percent from the current 16 percent by 2030.