Gold miners hit with shortage of refining chemicals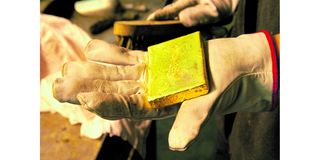 Dar es Salaam. Shortage of sodium cyanide, which is required to leach gold from ore, has hampered activities of the country's large and medium-scale miners.
The shortage recorded in the last three months of 2022 , which is attributed to the ongoing Russia-Ukraine war has led to the drop in gold production.
Reports from government cycles say that the government was evaluating the situation in order to take appropriate intervention measures.
Speaking to cyanide businessmen in Mwanza on Saturday, the minister of Minerals, Dr Dotto Biteko said he suspected foul play in the business.
"I'm not sure if the Chief Government Chemist has been given accurate information or not. Because, if you follow up on the data of the amount imported and sold, you will notice that there is a huge difference," he said.
"The quantity sold is small compared to imports. Where is the other amount? Probably, it is sold in the black market," he added, commending traders who abide by government instructions.
He said there were unscrupulous traders who sold a drum of the chemical at Sh800,000, but issued receipts indicating it had been sold at Sh600,000.
According to him, a trader at Nyakafuru Mines sold five drums of cyanide to a miner at Sh4 million which is equal to Sh800,000 each, but was provided a receipt indicating that the chemical was sold at Sh3 million, which is equal to Sh600,000 each.
"Why do this to poor small-scale miners? Why don't you do so to large and medium-scale miners like GGM and others," he questioned.
"I would like to see measures taken against the trader. If it is the licence, it should be withdrawn from him/her and be given to someone serious...," he added.
Furthermore, he said the person would be handed to the respective authorities for legal measures because he lacked the mandate to act on him/her.
He said he had three similar cases, hinting that the CCM government under President Samia Suluhu Hassan would not remain silent when small-scale miners voice their outcry.
During the meeting, the Federation of Small Scale Miners Association of Tanzania (Femata) President John Bina called on the government to withdraw cyanide, mining and refinery equipment from a list of businesses...in order to prevent the sector from collapsing.
Tanga mineral miners' association chairman, Leonard Mwita, said traders used the Russia-Ukraine war and Covid-19 to benefit themselves.
The statements come after reports that the looming shortage has adversely affected gold production in the country.
Reports attributed the shortage and hiked price to the Russia-Ukraine war as well as impacts of Covid-19.
The Government Chemist Laboratory Authority (GCLA) says an average of 500 to 700 tonnes of cyanide that replace mercury in mining activities were required per month.
The shortage has adversely affected the sector especially from September to November last year.
However, GCLA's director of regulatory services Daniel Ndiyo said the price of one 50 kg barrel of cyanide has increased to Sh1.2 million from the previous Sh500, 000.
"But, a stakeholder's meeting held in December last year resolved that the price should be reduced to Sh600,000," he said.
However, he hinted that another stakeholder's meeting was slated to take place in Dodoma this month to assess the situation in order to establish the next move of action.
Geita Gold Mining (GGM) vice president, Simon Shayo said the company expect to assess the negative impact brought by the shortage next week.
Mr Jeremia Kituyo, a player, said the shortage of chemicals has negatively affected gold production, calling on the government to continue addressing the challenge.
Ministry of Minerals Permanent Secretary Adolf Nduguru said, Dr Biteko was later this month expected to preside over the stakeholder's meeting slated for Dodoma to deliberate on the matter.
Data from the ministry of Minerals show that large and medium scale miners contributed 71 percent of 53,795.86 tonnes of gold produced in 2019/2020.
As of March 2021, minerals contributed 45.9 percent of the value of all exports, bringing in $3.103 billion, with gold contributing 90 percent of the exports.
Usually, chemicals imported from foreign countries including South Korea, India, Georgia and China are used by large and medium-scale miners during the extraction activities being a replacement of mercury that has been pronounced to be dangerous.