Harris hails Samia as 'champion' of democracy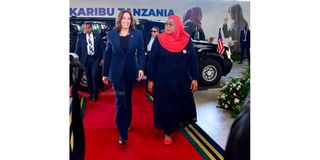 Summary
Kamala Harris, the first Black person and first woman to be elected US vice president, spoke alongside Samia Suluhu Hassan -- Tanzania's first female president
Dar es Salaam. US Vice President Kamala Harris on Thursday hailed Tanzania's President Samia Suluhu Hassan as a "champion" of democracy, on the latest leg of her landmark trip to Africa.
Harris, the first Black person and first woman to be elected US vice president, spoke alongside Samia -- Tanzania's first female president.
Harris said the two would discuss democracy, good governance, longterm economic growth and the climate crisis during her visit to the East African country.
"On the subject of economic growth, good governance delivers predictability, stability and rules which businesses need to invest," Harris said, describing Samia as a 'champion' of democracy.
"There is so much potential for growth here," she said.
Harris is on a three-nation trip to Africa, the latest push by the United States to deepen its engagement with the continent to counter the growing influence of China and Russia.
Samia Suluhu Hassan, who marked her second year in office on March 19, has sought to turn the page on Magufuli's hardline rule. 
Earlier this month, she vowed to restore competitive politics and jump-start a stalled process to review the constitution, a long-held opposition demand.
In January, Hassan announced the lifting of a ban on political rallies, paving the way for the return later that month of opposition stalwart Tundu Lissu after spending most of the past five years in exile.
On Thursday, Harris also laid a wreath at a memorial commemorating the August 1998 bombing of the US embassy in the commercial capital, Dar es Salaam.
The almost simultaneous attacks by Al-Qaeda in Tanzania and the US embassy in Kenya's capital Nairobi left more than 200 people dead and more than 5,000 wounded.
As she wrapped up the first leg of her trip in Ghana on Wednesday, Harris announced an initiative of more than $1 billion to improve women's empowerment in Africa.
In a speech in Ghana's capital Accra on Tuesday, she had noted three areas of focus Washington believes could benefit from more investments: women's empowerment, the digital economy and good governance and democracy.
"We are 'all in' on Africa," she added, repeating US President Joe Biden's declaration at a US-Africa leaders' summit last year.
Harris is set to leave for Zambia on Friday, March 31.