Prime
How drugs ruined Hussein's promising career in the army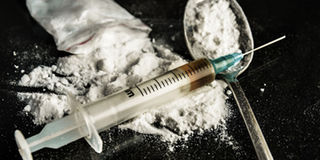 What you need to know:
Authorities say incidence of drugs are down by 60 percent in the past year and that efforts are now on rehabilitation of drug addicts as 50 sober houses have been established.
Mwanza. Hussein Hassan (36) had the ambition of becoming a decorated army officer right from his days as a young boy.
That was why he had no time to waste when he came of age.
At 21, Hussein joined the army, and the beginning looked good, though it was short-lived.
Having started using drugs at the age of 17, Hussein could not effectively fathom that the outcomes of the habit could be far-reaching.
Despite joining the army, he could still find time to take drugs in secret.
He was eventually found out and charged with conduct unbecoming of a soldier. He was found guilty and, as would have been expected, dishonourably discharged from the army after serving for only three years. This was in 2011.
"Things became very hard for me. I could not reverse the situation. I have been longing to go back to my job ever since, but the army won't take me back. Drugs have ruined my career," he told The Citizen in a recent interview that coincided with the International Day Against Drug Abuse and Illicit Trafficking.
The United Nations General Assembly's Resolution 42/112 of December 7, 1987, adopted June 26 as the International Day against Drug Abuse and Illicit Trafficking in an effort to express its determination to strengthen action and cooperation to achieve the goal of an international society free of drug abuse.
"I have some people who depend on me. Previously, I was able to accommodate them, but now things are the opposite. Life is tough. I messed up with the chance that I had," Hussein tells The Citizen.
Hussein used to spend up to Sh50,000 per day on cocaine and heroin to quench his thirst.
"I would steal laptops belonging to students in order to raise money and buy heroin. I was inactive when high on heroin. My nervous system slowed down, affecting the way I talked, walked, and even my eating habits," he recalls.
A resident of Mbugani Street in Mwanza, Hussein is now sober. He is a street vendor selling shoes, earning up to Sh30,000 per day.
Hussein recalls his journey to recovery, saying it was not easy. He says he started doing drugs while still in primary school at a Mwanza-based school.
After completing his primary school education at Mbugani Primary School in Mwanza, Hassan was recruited into the army. However, he was fired after he was captured snorting drugs by his platoon leader in November 2011, ending his career in the army.
"I started doing drugs at a young age. Since it wasn't easy for people to recognise, I was able to join the army while using drugs. My addiction continued even after I was fired; my addiction continued until an organisation known as ICAP Tanzania came to my rescue," he says.
Hussein is now attending a Methadone clinic (MAT) located at the ICAP-supported Sekou Toure Regional Hospital in Mwanza.
According to the Deputy Country Director of ICAP in Tanzania, Dr John Kahemele, as of May 2023, about 274 clients were undergoing treatment at the MAT Clinic, hinting that the cumulative enrolment since the inauguration of the clinic in 2008 is 683.
Dr Kahemele said, so far, 55 clients have successfully graduated from treatment, at which they received comprehensive HIV prevention, testing, and treatment, psychosocial support, occupational therapy, STI treatment, and TB treatment.
"We (ICAP) and Steps Tanzania also engage graduated clients and current clients with good adherence as peers and community outreach volunteers to support clients through enrolment, treatment, and retention," he says.
He said the close working relationship between ICAP, Steps Tanzania, and the MAT Clinic allows the implementation of innovative approaches and solutions. MAT peers have been added to support the work of the MAT clinic.
Speaking during the national commemoration of International Day against Drug Abuse and Illicit Trafficking in Arusha on June 25, President Samia Suluhu Hassan hinted that the government will use the youth skills upgrading programme launched recently to fight drug abuse.
The commander in chief said that through the programme, young people will be supported to engage in production activities, thereby distracting them from drug addiction.
President Samia said more resources would be channelled to "Building a Better Tomorrow", a recently initiated facility for youth-led production ventures.
"Getting them engaged in productive tasks is one way to keep the youth away from substance abuse," the Head of State disclosed.
President Hassan said that despite concerted efforts, drug abuse in Tanzania had worsened, impacting the health of people.
She said although the inflow of highly potent narcotics from abroad has lately been reduced by 90 percent, that was not the case with those locally sourced.
Cocaine and heroin entry into Tanzania has been suppressed to only ten percent, unlike in the past, thanks to heightened vigilance.
She called upon the Drugs Control and Enforcement Agency (DCEA) to share intelligence information with their Zanzibar counterparts in order to tame drug trafficking.
To boost the anti-drug fight, the government has increased the agency's expenditure budget to Sh24.1 billion in the financial year 2023/24 from Sh12 billion during 2022/23.
DCEA commissioner general Aretas Lyimo said generally, incidences of drugs in Tanzania have reduced by about 60 percent in the past year.
Efforts are now on rehabilitation of drug addicts as 50 sober houses have been established.