How Tanesco is grappling with drought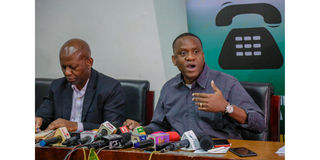 Summary
The country has the capacity to generate nearly 1,695 megawatts through hydropower, natural gas, and other means.
 
But it is currently facing a shortage of between 300 and 350 megawatts
Dar es Salaam. Reliance on hydropower sources is affecting electricity generation by Tanzania Electric Supply Company (Tanesco), resulting in the ongoing power rationing.
Tanesco managing director Maharage Chande said yesterday that actual generation had dropped by between 300MW and 350MW, largely because of reduced hydropower production due to drought.
Out of the total deficit, hydropower alone directly and indirectly accounts for up to 181MW.
The remainder has been occasioned by the servicing of machines at some power stations.
"Having no rain has resulted in a reduction in water flowing into our hydroelectricity dams. Tanesco has thus been unable to serve its customers as expected. We are generating less power compared with our capacity," Mr Chande said.
He added that hydropower stations have been severely affected by drought.
"For instance, Kihansi is currently generating 17MW against its fully capacity of 180 MW. Pangani is also affected, as it produces only 10MW, yet its capacity stands at 68MW.".
According to Mr Chande, Mtera dam has not been seriously affected due to its depth, and is thus generating at least 175MW against its capacity of 180MW, whereas Nyumba ya Mungu produces only 3MW against its capacity of 8MW.
"Apart from drought, we do have some other power generating stations that are currently undergoing major and partial maintenance. These include Kidatu power station, which is currently generating at least 150MW of its 200MW capacity," he noted
Mr Chande further mentioned other power stations undergoing maintenance as Ubungo III, which produces 32MW against its 112MW capacity, and Kinyerezi II, currently generating 195MW against its 248MW capacity.
He said the firm has come up with short, medium and long-term plans aimed at easing electricity shortages in the country as the current pre-defined daily rationing stands at eight to twelve-hour blocks.
"For the short term plans, which range from today until mid-December, Tanesco is going to speed up the maintenance process to make sure Ubungo III is back to its fully capacity.
"We will also have Kidatu station generating 50MW, whereas Kinyerezi II will be producing 190MW. And if everything goes according to plan, then we have a total of 220MW, which will reduce power rationing in the country."
According to Mr Chande, Dar es Salaam and Coast regions are the biggest uers of electricity in the country, accounting at least 50 percent of national consumption, mainly due to having a large number of industries.
He also outlined medium-term plans which include the expansion of Kinyerezi I whereby an additional 90MW will be added to its current capacity thus reaching 310MW capacity.
"By this time, hopefully, it will be raining, thus strengthening power generation and distribution, so let's stand together as no one is to blame. It is the climate impacts that have reached us this far," Mr Chande said.
He was of the view that the long-term solution to the country's power rationing would be the Mwalimu Nyerere 2,100MW mega-dam which is expected to be the second largest hydropower facility in Africa.
"I know you may question why Nyerere dam, which is also a hydropower facility and yet we are experiencing climate change with shortage of rain, but the good thing is its depth. Mtera has not been affected due to its depth. The dam has enough water flow for power generation."