Human activities put migratory eels at risk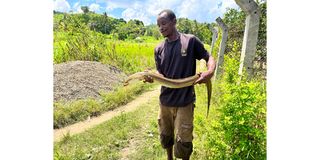 What you need to know:
In developed countries, however, they are sold expensively to meet consumption needs and for medical use
Dar es Salaam. A unique fish type of eels, which helps other creatures to live in the rivers, is at risk of disappearing due to a disruption of its living environment because of an increase in human activities, a study has shown.
Eels are unique due to their habit of migrating long distances from rivers to the sea. After variable time spans in the river, they undergo some anatomic and physiological changes before they start their once-in-a-lifetime migration back to their spawning areas in the sea, where they spawn and die. Baby eels drift with ocean currents and migrate upstream to the river.
Because of this complex lifecycle, eels are confronted with factors and threats in several habitats. In coastal, estuarine and freshwater habitats, anthropogenic impacts like barriers to migration, fisheries and contaminant loads can have dramatic consequences for eel stocks by causing direct mortalities, reducing or totally preventing access to habitats or by decreased reproductive capacities due to contaminants.
In developed countries, however, they are sold expensively because catches are declining rapidly and they are not easy to grow in order to meet human consumption needs.
This is in accordance with the study that was conducted by the School of Aquatic Science and Fisheries Technology (SoAF) of the University of Dar es Salaam (Udsm) in collaboration with the Tanzania Fisheries Research Institute (TafiriF) and the Thünen Institute of Fisheries Ecology on the biodiversity of unique eels in fish.
"They like to hide under the dead logs or in the grass that grows on the banks of rivers where they feed on other fish species, but sometimes, livestock step into rivers and destroy those areas, leading to the loss of their habitats," the research leader, Dr Lydia Gaspare, told The Citizen.
The eels, whose habitat is in the rivers and sea, help other creatures to live and do not reproduce in abundance.
Dr Gaspare said eels were facing a growing interest in the international live fish trade as seed for aquaculture operations due to the decline of temperate eel species.
Due to the various advantages, many countries in the world have started looking for species on the African continent, hence the need to start protecting them and making them recognized.
The study started in 2020 and ended in 2022, seeking to find out the type of eels found in the country, look at issues of law and policy, as well as mobilize the community on the importance of protecting them.
Dr. Gaspare said the study was conducted at the Pangani and Rufiji rivers, where it was also discovered that the people are familiar with them [the fish] and that once caught, it is sold right there in the villages. The study was funded by GIZ under MeerWissen
On other hand, researcher Ms Claudia Kanyairita added that on the issues of law at the moment there is no such law specifically targeting eels, it is important to have a law that protects eels due its economic benefits it has and to protect the environment and other creatures.
For his part researcher Mr Kaijage Laurean said, eels are the only fish in the Western Indian Ocean region that makes a long distance migration, it means that if it disappears, there will be no other, so it must be protected and that alone makes it different from the others