JKCI, Saudi donors give 30 children a lifeline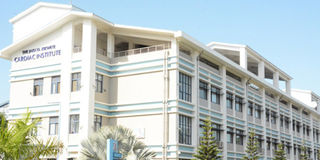 Dar es Salaam. The Jakaya Kikwete Cardiac Institute (JKCI), in partnership with specialised doctors from the King Salman Humanitarian Aid and Relief Centre in Saudi Arabia, has once again come to the rescue of 30 Tanzanian children suffering from various heart diseases.
The seven-day surgical marathon, from September 7 to September 13, has not only saved young lives but has also underscored the enduring importance of bilateral relations between the two countries.
According to Dr Peter Kisenge, the Executive Director of JKCI, the remarkable collaboration has successfully treated 30 young patients, pushing the tally of children saved through this partnership to a staggering 439 since its inception in 2019.
Dr Kisenge reflected on the impact yesterday, noting, "Funds have been saved due to this cooperation; otherwise, these Tanzanians would have had to dig deeper into their pockets to seek medical treatment in India."
The partnership's genesis in 2019 brought an influx of vital resources to JKCI, including essential drugs, consumables, and equipment worth $1.46 million, equivalent to over Sh3.6 billion.
Beyond these material gains, it has been a lifeline for Tanzanian families with children in dire need of cardiac care.
The ongoing collaboration has also been instrumental in building the capacity of JKCI specialists.
Dr Kisenge noted that the latter have gained invaluable expertise in performing complex procedures and employing advanced techniques for open-heart surgeries and catheterization procedures.
Dr Angela Muhozya, Director of Cardiac Surgery at JKCI, emphasised the need for continued collaboration as they face a backlog of over 500 children awaiting life-saving surgeries.
Highlighting the international scope of this humanitarian effort, Mr Yahya Okeish, the Ambassador of the Kingdom of Saudi Arabia in Tanzania, celebrated the team's remarkable achievements.
Notably, they have successfully performed 54 surgeries to separate conjoined twins from 23 countries on three continents, transcending boundaries of gender, race, colour, or religion.
One mother, Ms Janeth Musinga, shared her heartfelt gratitude for the partnership.
Her nine-year-old son, who had suffered from a heart condition, received the care he desperately needed.