Kenya hits Tanzania with new trade tariff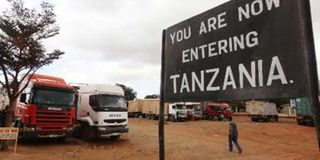 Summary
Tanzania and Kenya have been embroiled in trade war for quite sometime. Tanzania banned importation of confectionery products from the neighbouring country.

Kenya retaliated by imposing a 25 per cent tariff on selected Tanzanian products such as wheat flour.

Dar es Salaam. The trade war between Tanzania and Kenya is entering another round as the two largest economies in the region failed to resolve the battle sparked by the use of imported materials in goods produced in the East African Community (EAC).
While Tanzania is reported to have rejected a deal that granted Kenyan-made confectioneries unrestricted entry, Kenya retaliated by imposing a 25 per cent tariff on the former's products, which include flour, claiming that they were produced from imported wheat. The EAC common market allows free movement of locally manufactured goods, but Tanzania and Uganda accused Kenyan manufacturers of tilting competition in their favour by using imported industrial sugar.
Tanzania imposed the 25 per cent import duty on the Kenyan-made confectioneries like chocolate, ice cream, biscuits and sweets claiming that they were made using zero-rated industrial sugar.
A team picked by the EAC conducted investigations over the allegations and submitted a report, which Tanzania has reportedly rejected it.
Tanzania's ministry of Industry, Trade and Investment permanent secretary, Prof Joseph Buchweishaija, told The Citizen that he had not received an official report on the issues because technical meetings were in progress.
"These trade matters and other issues related to our border posts are being resolved by our technical teams from both Kenya and Tanzania. Negotiations in progress and they will notify us after reaching a consensus, but as of now, I have not received any detail," said Prof Buchweishaija.
"There are many changes regarding exportation and importation between Tanzania and Kenya, but through the ongoing talks, we hopes that such issues will be solved for good," he said.
However, a Kenyan newspaper quoted Tanzania's Commissioner for Customs and Excise Ben Usaje as saying that the report that was prepared by the EAC, which was to shed light on Kenya's denial of Tanzania's tax-cheating allegations, is not conclusive.
It claims that Tanzania now wants the EAC experts who inspected Kenyan firms that manufacture confectioneries to repeat the inspection.
"I can confidently tell you that Kenya was not telling the truth on the duty free industrial sugar that was used to manufacture these sweets," Mr Usaje said.
"We will keep charging the Kenyan manufacturers the 25 per cent levy until we are satisfied that EAC experts have done their job well," he added.
The report reads in part: "Products manufactured using industrial sugar when transferred to the EAC qualify for preferential treatment provided that they meet the criteria set under EAC Rules of Origin 2015 and any other conditions set under the regional law."