Latra gives nod for Bolt, Uber to charge up to 25 percent commission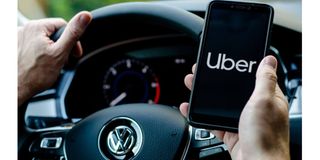 Dar es Salaam. The government has amended its regulatory directives, which were boycotted by ride-hailing operators.
In a March 2022 order on prices, the Land Transport Regulatory Authority (Latra) capped the commission for the ride-hailing companies at 15 percent from the previous 33 percent. It also removed the booking fee which was a source of income for the companies.
The transport regulator said the changes were aimed at maintaining competition and ensuring affordable taxis.
However, in a notice recently issued by Latra, the ride-hailing operators are now free to charge up to 25 percent in commissions and charge up to three percent as the booking fee.
"These new fares will be effective after 14 days of this notice," Latra stated in the notice gazetted on December 30, 2022.
The new tariff guidelines for the ride-hailing industry were welcomed by industry players who said it's the outcome of stakeholder engagement.
"We would like to appreciate Latra and the relevant authorities that have worked tirelessly to ensure that the concerns raised by the industry stakeholders were addressed, to ensure a win-win situation for all stakeholders," said Bolt regional manager for Eastern Africa, Mr Kenneth Micah.
Bolt had agreed to temporarily comply with the directive in order to demonstrate goodwill despite complaining about the negative impact the capping had on its business.
"This was done with the aim of creating an opportunity for an amicable resolution, with the overall objective of developing the nascent ride-hailing sector in Tanzania," he added.
In light of Latra's new regulations for the ride-hailing industry players, Bolt said it would make necessary changes to its commission and passenger fare pricing structure as per the tariff guidelines in the coming days.
"Bolt shall continue to offer full scale operations in order to ensure that hundreds of thousands of users in Mainland Tanzania continue to access affordable, safe and convenient means of moving around the city. We are also committed to ensuring that the thousands of drivers driving on the Bolt platform in Tanzania will continue to access earning opportunities," the company added.
Uber did not comment on the new development.
Last September, the government said it was engaging the ride-hailing operators to address the challenges in the industry.
Uber had suspended its services in Tanzania, saying government legislation that raises fares and cuts its commission made it difficult for it to operate.
Uber said the previous directives made the "difficult decision to pause operations" in the East African country from April 2022.
"The pricing order proposed by the Land Transport Regulatory Authority (LATRA) makes it challenging for platforms like Uber to continue to operate," Uber said at the time.
The government was quoted as saying that Uber would resume the services after the negotiations.