Magufuli: My Priorities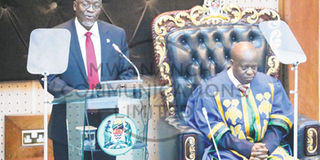 What you need to know:
Dr Magufuli drew the line for his new administration in a one -and-half-hour long speech to inaugurate the 11th Parliament in Dodoma.
Dar es Salaam.  President John Magufuli yesterday laid down the priorities of his government, sending out a strong statement that it will not be business as usual under his leadership.
Dr Magufuli drew the line for his new administration in a one -and-half-hour long speech to inaugurate the 11th Parliament in Dodoma.
The president's speech set the working tone for the yet to be assembled cabinet and also for those in public service, either as politicians or civil servants.     
Appearing both combative and diplomatic in his wording, Dr Magufuli said it was now the time for Tanzanians to walk the talk in the resolve to confront vices that he said were holding the nation back in uplifting millions from abject poverty.
He enumerated some of the drawbacks as mega corruption, embezzlement of funds within local government, poor management and sheer waste of public resources, including natural wealth and bureaucracy in government offices.
Others were negative political competition, neglect of strategic infrastructural investments and a culture that encouraged laziness or did not reward hard work.       
"Now is the time to work and I as your president, will walk the talk in delivering all that I promised during the campaigns," he told MPs in an address that was interrupted by claps and foot-thumping. Guests including four former presidents, diplomats and top bureaucrats listened from the gallery.
The president said poverty and unemployment remained Tanzania's biggest challenges, noting that most of his plans would be geared towards running an economy that would create opportunities for the youth and reduce the growing gap between the rich and the poor.
"I will not triumph in economic growth statistics that do reflect on the day to day lives of the ordinary citizens," said Dr Magufuli who becomes the fifth president of Tanzania after succeeding Mr  Jakaya Kikwete.
He was wildly cheered when he explained how he intends to fight corruption and bring discipline and efficiency in government affairs. He also enumerated plans to better education, water supply, healthcare delivery and expand economic opportunity for all.
Fighting corruption
Dr Magufuli reiterated his campaign pledge to form a special court to try graft cases, telling MPs that the vice had permeated the nation to chocking levels.
"I will fight corruption without fear or favour. I will personally lead the charge…pray for me and support me in this war because those involved are not the ordinary mwananchi."
"The public hate corruption, and I hate corruption too. Honest citizens will not shy away or be afraid to lend their support," said Dr Magufuli, who quoted the founding father of the nation Mwalimu Julius Nyerere as equating the vice in 1960 to war like situation.
The president warned that he will not hesitate to fire any of his ministers implicated in corruption. "I will not only fire them but ensure other legal steps are taken against them."
He told the MPs that he will need them to help fight the vice as some of them were known to work with cartels or shielded some dishonest business people.
The president said he would soon send bills to Parliament to enact laws to fight the corruption, singling out the procurement Act as one that created loopholes for theft of billions of shillings in public funds.
Govt spending and operation  
The president said he will form a small but efficient cabinet. He will clamp down on wasteful spending of public funds and channel more money to education, water and health sectors.
He said his administration will take austerity measures to ensure money is spend on productively. He will clampdown on foreign trips and training and cut down on unnecessary workshops and conferences.     
To emphasise his point, Dr Magufuli said foreign trips cost the country a staggering Sh356.3 billion in air tickets and allowances alone between 2013 and 2015.  "This money could build 400 kilometres of tarmac road," he noted.
He said Parliament, the office of the PM, Foreign Affairs, Home Affairs and the ministry of finance were among those leading in the foreign travels.
He warned that his administration will not tolerates lazy civil servants and will not also tolerate bureaucracy that frustrated service delivery and drove away investors.
"The ferocity of travel by some people was more than the trips they made to see their mothers," he said to the roar of the assembly. He said public officers left offices to do meetings in hotels or boards of public corporations held their meetings overseas. He said it was surprising that a road engineer travelled in a V8 car instead of a pickup that was more suited for the work.
He said it would be cheap to hold trainings of government workers locally by inviting tutors to come over.
Economy, Industrialisation
The President said railway, port and air infrastructure would be improved to match the opportunities available. He said the gas discoveries will help the nation leap. He said industrialization will be key to his plans, saying he hoped to that manufacturing would account for 40 per cent of all new jobs by 2020.
He said he had ordered the review of all privitisation contracts that were entered between the government and private investors. He said his government wanted to revive existing factories that were sold to investors who have failed to develop them as agreed.
"We will reposes the factories that are dormant or have been changed to other things. They were given them to develop but some have not and continue to abuse the agreements. I will not tolerate them and will start the audit immediately," he said.
He said he will encourage setting up of industries for production of mass consumption products such as clothes, textile and edibles. "Agro-based industries and those for fisheries and livestock will bring quick wins for our farmers and raise income for rural communities that form the largest percentage of the population," he said.
He said provision of adequate power was one area that will change because without electricity indistrialisation would remain a pipe dream. He warned Tanesco managers whom he blamed for colluding with individuals to sabotage the utlity's operations for private gain.
He said the port of Dar es Salaam would be rid of corruption and lethargy while TRA will have to raise its socks in revenue collection.  He said tax holidays will end and the tax bracket widened. "We should not let the small people struggling to suffer under the weight of nuisance council taxes yet the big boys were evading to pay tax," he warned.   
Social services
The President said more funds will be sent to fund free primary and secondary education. He said education standards will be raised to generate a competent work force. He will address the teachers' problems, including housing and salaries.
On water and health, he said the target is to get 85 per cent of rural people supplied with clean water while in town the target is 95 per cent. He said drugs and other essential medical services will be provided.
Union  
On the union, the president Magufuli was optimistic that a solution will soon be found on the election impasse. He did not say how he will go about it, but hinted that the Vice President Samia Suluhu Hassan will play a leading role in the search for a solution in the political crisis that arose when election results were annulled.
He said his government will defend the union from any threats. He said he will also not tolerate elements that could distabilise the unity and peace that the country was enjoying.
Katiba
On the stalled constitution making process, Dr Magufuli signaled his intention to find a middle ground to get it moving forward. He said while the process was at an advanced stage following the work of the Constituent Assembly, he said he will also respect the work done by the Warioba Constitution Review Commission that collected public views.
Foreign diplomacy
Dr Magufuli pledges Tanzania's continued role in the regional and international stage. He said the country will play its part in enhancing regional integration in the EAC and SADC blocs as well as continue engaging its development partners to keep the good record of his predecessor.