Mixed reactions to Samia's call on loss-making firms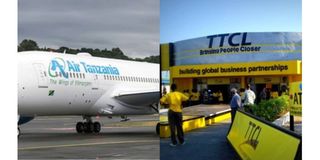 Summary
President Samia questioned the value of keeping state-run firms that do not generate profits year in and year out, suggesting that they be disbanded
Dar es Salaam. Economists and businesses espouse President Samia Suluhu Hassan's boldest reforms aimed at disbanding unprofitable state-owned enterprises, saying they need a restructure, but some doubt the proposal thinking the move might jeopardise her legacy.
Speaking exclusively to The Citizen, an independent business consultant Mr Falesy Mohamed Kibasa said: "President Hassan's commitment to control public expenditure is one of her legacies which need to be protected."
Adding: "Being inefficient, losses, budgetary burdens, as well as providing poor products and services, are the reasons why a structural adjustment is inevitable. There is no need to disband them, let's get competent business-minded people to lead these institutions.
Mr Kibasa was of the view that in case the current government decides to end their existence, then the next president might reverse such a decision, which according to him may tarnish Samia's legacy yet it needs to be protected.
For instance, he noted: "ATCL [Air Tanzania Company Limited] don't conform to business principles, in fact, they don't have a business-oriented strategic plan, and as a result, the national carrier performs poorly."
He adds: "We have purchased a number of planes yet only two are operational, we don't have a business strategy, hence remaining with dormant capital of which in five years to come ATCL will collapse. "We need quality personnel, we can't just run these enterprises similar to running a municipal council, as the latter is service oriented rather than profit-making. Take competent individuals at least with a background in international business."
Dr Husna Masumbuko, a Dar es Salaam entrepreneur, explained that the government should take charge of creating the right environment for government-owned enterprises to excel, though political influence should be omitted if they are to succeed.
According to her, such companies ought to play a crucial role in the country's economy, therefore, profitability and efficiency are of paramount importance as poor performance raises some risks including being a contingent liability that might stretch public finances. She thinks that the governance structure of such companies seems to be weak and that it should be strengthened by among other things, making the management and the boards more professional.
"These companies operate in markets that have intensive competition, to achieve optimal results, then a kind of competitive interaction between state and private companies is needed…they need to fully engage in business…to achieve this, then someone from the private sector fits to lead such entities."
Prof Deograsias Mushi an economist and chair of the EcomResearch Group Limited said: "These public enterprises are strategically created to respond to the need especially when the private sector is weak or isn't attracted to offer a certain service/product."
Adding: I do agree with the president that reforms are needed if we are to succeed, we need to restructure them, for instance, TTCL is competing with other companies in the private sector, so I think we need to evaluate and see how we can restructure it."
"With the national carrier – ATCL, there are direct and indirect benefits, but it has become hard to run it in a profitable way, I think the management has to be competent and far from politics of the land," he observed.
Prof Mushi further noted: "Even the board…politics should be far from business, it is unfortunate someone from the government or retiree serve in the board, of course, it isn't bad but more emphasis should be placed on having business-minded individuals."
On Wednesday, President Hassan received the CAG's 2021/22 report and hinted at major reforms in the collection and management of public funds, as well as the classification and operations of some state-owned entities to prevent the loss of taxpayers' money through embezzlement.
The reforms will affect loss-making public institutions; management of funds meant to be issued as loans to women, youth, and people with disabilities; systems used by local authorities to collect revenue, and payment of contractors, among others.