Necta suspends announcement of top schools and students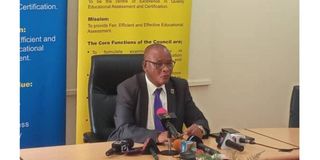 Dar es Salaam. The National Examination Council of Tanzania (Necta) has suspended the announcement of the top schools and students in the ordinary certificate of secondary education exams (CSEE).
You can view the results here:
The acting executive secretary of Necta, Mr. Athumani Amasi, revealed this while announcing the 2022 Form Four results, because it is like they are promoting the schools without reason.
 "Why announcing the top schools while there are more than 18,000 schools in the country, it is like you are marketing the schools, I don't think it is productive," he said on Sunday.
Regarding announcing the best student, he said there is no benefit in that because you cannot announce one student out of all the students in Tanzania who may also have different study environments.
"You mention a person who has led a group that despite having taken the same exam but did not study in the same environment, then you give credit to one person," he said.
In the results announced on Sunday, the total of 456,975 out of 520,558, equal to 87.79 percent have passed by getting first to fourth-grade.