No loss of life in Kariakoo blaze, says regional commissioner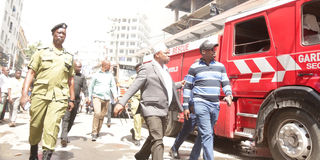 What you need to know:
The blaze started in one building before spreading to several adjacent buildings.
Dar es Salaam. Dar es Salaam regional commissioner Albert Chalamila said there was no loss of life in the fire that broke out in Kariakoo on October 1, 2023.
"Luckily, there has been no loss of life. Security organs and some of the owners of the affected buildings worked together to salvage property and prevent the loss of life," he said when he visited the scene of the fire.
Mr Chalamila added that the blaze started in one building before spreading to several adjacent buildings.
He said the extent of the damage in monetary terms could not be immediately established.
"It's obvious the proprietors and other people who had property and goods in the buildings incurred big losses, but more information will be forthcoming.  Our priority is to put out the fire."
Mr Chalamila said firefighting efforts were hampered because some of the spaces between buildings were blocked and directed that they be cleared immediately.
"Some alleys and other spaces were blocked with wooden structures, which, apart from hampering firefighting and rescue efforts, also fuelled the blaze. I take this opportunity to commend the Fire and Rescue Force and security organs for their swift response to the fire." 
The Fire and Rescue Force acting commander for Ilala, Mr Elisa Mugisha, said the fire started in Big Bon Building, but added that the cause was yet to be established.
He added that the fire was under control, although efforts to put it out were complicated by the affected buildings being close to one another. 
"We were first informed at around 7am and it took us about two minutes to arrive here because our office is not far from this place. However, the major challenge was to gain access to the buildings due to cluttered passages," Mr Mugisha said.