NSSF admits fraud in Dege Eco Village project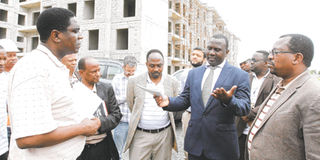 What you need to know:
According to the Controller and Auditor General (CAG)'s 2014/15 Audit Report, NSSF entered a joint venture with Azimio Housing Estates to form Special Purpose Vehicle Company, Hifadhi Builders Limited.

Dodoma. The management of National Social Security Fund (NSSF) admitted before the Parliamentary Public Accounts Committee (PAC) that a multibillion joint venture contract to develop Kigamboni Satellite City was fraudulently entered into.
According to the Controller and Auditor General (CAG)'s 2014/15 Audit Report, NSSF entered a joint venture with Azimio Housing Estates to form Special Purpose Vehicle Company, Hifadhi Builders Limited.
Under the contract, Azimio undertook to develop 20,000 acres located in Rasi Dege, Kigamboni, of which NSSF holds 45 per cent, while Azimio holds 55 per cent shares.
The estimated cost of the project, according to the CAG, was $653.44 million (Sh1.4 trillion) and the terms of capital sharing is that, NSSF will fund 45 per cent of total project cost and Azimio will fund 35 per cent cash plus the value of land which will be regarded as 20 per cent.
The NSSF Director General, Prof Godius Kahyarara, told PAC members on Tuesday evening that the contract implementation hasn't been ongoing since February this year due cash flow problems. He said until that time NSSF had already injected $129 million (Sh270.9 billion) while Azimio $5.5 million (Sh11.5 billion), suggesting that now, the fund is technically the majority shareholders.
According to Prof Kahyarara who took over office in March this year, NSSF's initial probe into the matter unearthed massive flaws in the contract. For instance, he pointed out, the project area was only 3,503 acres and not 20,000 acres.
"Again, the price of the plots was massively overrated, for according to contract, one acre was valued at Sh800 million, but our valuation indicates that the actual price of an acre is Sh25 million," he said.
Prof Kahyarara said after the valuation, they held a meeting with Azimio and informed the company about the flaws and it conceded in some of them. He said during the next management meeting, they will dwell on the way forward, including the modalities of restructuring the contract which would take into account the actual value of the land price and categorically state that NSSF is the majority shareholder.
Committee member Ezekiel Maige, who is also Msalala MP, noted that it was clear the Kigamboni deal was dirty and all players were dirty as well. "Why should the NSSF continue partnering with Azimio? By doing so, wouldn't the Fund be contaminated?"
Responding to that, Prof Kahyarara told PAC that, if NSSF pulled out, it would be in a great risk of losing Sh270 billion which has already been invested and besides, they have signed a contract which is binding.
"There are legal implications in this matter, that's why we are for a review of the contract; our partner (Azimio) is smart as well… in our last meeting, he came along with a team of eight lawyers," cautioned the NSSF chief.
The PAC chairperson and Same East MP (Chadema), Ms Naghenjwa Kaboyoka, said the matter must be dealt with carefully, "Azimio remains the land owner and already there are buildings that have been constructed. If NSSF is to pull out in a rush, it might be told to remove their buildings."
The MPs also asked the NSSF management if it was familiar with Azimio's financial status and if it were true that it failed to give their contribution because it didn't have funds, and if it were true it (Azimio) tried to secure a loan from NSSF.
Prof Kahyarara confirmed that indeed Azimio tried to secure a loan from NSSF, but we disqualified it since it had failed to execute its obligations. "Azimio is free to go anywhere and secure a loan, but not to NSSF," he said.
Morogoro South-East MP (CCM) Omary Mgumba, wanted to know why Azimio was favoured by NSSF despite its bad track record and awarded hefty tenders including another joint venture to develop another satellite city in Arumeru where the company was paid Sh43.9 billion as a consultancy fee. The project was, however, terminated in January.
Responding to that, the NSSF board of trustees chairman, Prof Samuel Wangwe, said that generally, any partnership ought to be forged on the grounds of trust and reputation; a lot of questions can be asked, but the truth remains that NSSF did sign the contract with Azimio. He added:
"The ongoing probe will establish if the rot came from within or was brought from outside. We have suspended some directors and senior managers in connection with these queries; some of them have already been interrogated and the truth will be revealed." On the consultancy fee, Prof Kahyarara said already, the company has agreed to repay the money. Saccos Saga
Another area which was hotly questioned by MP was disbursement of loans to nine Saccos over and above 50 per cent of their assets contrary to the requirement of NSSF lending policy. Some of the Saccos are Bumbuli Development Corporation which received a loan of Sh1 billion, but 50 per cent of their asset is only Sh51 million, an excess of more than Sh940 million or 1,859 per cent and Korongo Amcos Saccos that received Sh500 million loan, but the 50 per cent of its asset is Sh18 million, an excess of Sh480 million or 2,621 per cent. "This is a serious matter, apart from being unqualified, Bumbuli Development Saccos received additional Sh1.4 billion in the same year while it's not clear if they serviced the first loan," said Ms Kaboyoka.
Prof Wangwe who was appointed to the position in June this year admitted that the new management is also puzzled about the Saccos affair. He added that this is also an area under investigation. Currently they have halted the disbursement of loans. The PAC ordered a special audit on the Saccos saga, and according to Ms Kaboyoka, it will make resolutions and table them before the National Assembly.