Over Sh2 trillion embezzled in 2021/22 by Tanzania govt officials says Tundu Lissu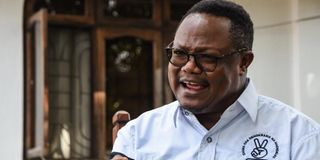 Dar es Salaam. Chadema's vice chairperson, Tundu Lissu has claimed that more than Sh2 trillion have been lost due to the embezzlement of public funds by some government institutions mentioned in the 2021/22  Controller and Auditor General (CAG) report.
The politician gave the sentiments on Monday during an interview with one of the local media outlets as he debated the outcome brought to the public by CAG revealing the waste/misuse of public funds in some government institutions.
"Adding up all the dirt mentioned by the CAG this year, more than Sh2 trillion have been lost," he said, adding that, "this is happening in a country whose people are facing many problems."
Every year, during a period like this leading to the government's central budget meetings, Tanzanians receive the CAG's report which discovers a lot of dirt, especially the waste of public funds amid citizens' struggle in life.
The CAG 2021/22 tabled to Parliament last week revealed, among other things, how a number of government entities misappropriated public funds amounting to billions of shillings.
It is still not clear how much exactly the government has lost through its entities and officials misappropriation of public funds.
In a statement that was issued on Sunday evening by the Presidency, apart from the TRC board and TGFA director, it directed the chief secretary to make sure that permanent secretaries and Director Generals of government entities read the CAG report and implement issues raised in their areas.
The president also ordered the permanent secretaries to make sure that all those implicated in the report should face legal actions as required by the law.
As a result of the crackdown Tanzania Railways Corporation (TRC) and Tanzania Government Flight Agency (TGFA) on Sunday, became the first casualties of the CAG report, after President Samia dissolved the TRC Board and sacked the flight agency's Director General John Nzulule.