Prof Julie Makani awarded medal of merit by French embassy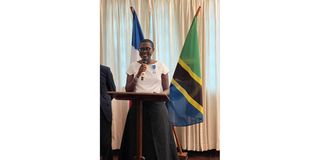 Dar es Salaam. The French Embassy in Tanzania has awarded Prof Julie Makani the medal of merit for dedicating her life to improving clinical care for patients and finding a cure for sickle cell disease (SCD).
Prof Makani from Muhimbili University of Health and Allied Sciences ( Muhas) is a renowned Professor of hematology .
Speaking at the event, French ambassador to Tanzania Nabil Hajlaoui said the medal of merit is a highly prestigious symbolic distinction of the French Republic.
He said it aims to recognise and reward remarkable and inspiring figures who have contributed to the strengthening of the French-Tanzanian relationship in a particular sector, such as health and medicine.
"The French Embassy in Tanzania, through this award, intends to underline the long-lasting, fruitful and extensive collaboration that the Embassy has had with Prof Julie Makani, but also with her team from the department of Hematology and Blood Transfusion at Muhas," he said.
The pioneer work of Prof Makani, said Mr Hajlaoui, contributed significantly in advancing the research of SCD in Tanzania and in Africa and improving the care for patients.
She created a pan-African network dedicated to SCD, the Sickle Cell Charta: Consortium for Health, Advocacy, Research and Training in Africa and has received several awards for her contribution to medicine.
"The French Embassy to Tanzania is dedicated to supporting the collaboration between Tanzanian and French researchers and doctors to develop innovative projects and make Tanzania a pioneering country in advanced therapy for SCD," noted Mr Hajlaoui. 
He added: Health is a top priority of the French international agenda which translates into the projects developed by the Embassy, such as a program aiming to strengthen the treatment of cancer in Tanzania implemented in partnership with the Aga Khan Hospital.
Prof Makani for her part said her achievements would not have been possible if it were not for cooperation with other health and research stakeholders.
"If we are to record more achievements, stakeholders from various fronts need to cling together," said Prof Makani who will turn 53 years in July this year.
SCD is a genetic disorder resulting in a malformation of the red blood cells and low level of hemoglobin (anemia).
Within Africa, the morbidity and mortality rates are still high, particularly in children under the age of five years.
Official data have it that 80 percent of the new cases identified worldwide are coming from Africa and Tanzania is one of the five countries in the world with the highest rates of annual births with sickle cell disease, estimated at 11 000 birth.