Safety precautions as Tanzania investigates 'unknown' disease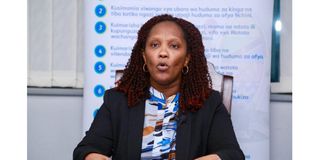 Summary
The government is investigating the mysterious disease that has claimed the lives of five people in the Kagera region, which borders Uganda and Rwanda
Dar es Salaam. Health experts have suggested a raft of measures that could be immediately taken to control the spread of an unknown illness that was detected in the Kagera region.
The government is investigating the mysterious disease that has claimed the lives of five people in the in region, which borders Uganda and Rwanda.
Already, a team of health experts has been dispatched to the area. The illness was detected in "a total of seven people with symptoms including fever, vomiting, bleeding in various body parts, and kidney failure", the chief medical officer, Prof Tumaini Nagu said in a statement released late Thursday.
"Samples have been taken from both patients and the deceased, in an effort to identify the source and type of illness," she said, urging the public to remain calm and take precautionary measures to avoid contagion.
Prof Nagu urged the public to take precautions such as hand washing, reporting people with similar symptoms to nearby health facilities, and avoiding hand shaking.
She also asked the public to avoid physical contact with people showing the symptoms, or touching their saliva, blood, urine, or any other fluid from the patient's body.
On the government side, she said close follow-up of the illness was underway, including tracing contact persons and people with disease symptoms in the communities. The Medical Association of Tanzania (MAT) President, Dr Deusdedit Ndilanha said prevention experience gained during Covid-19 should be upheld by citizens and health practitioners.
"Health centres and Local Government Authorities (LGAs) should collaborate to facilitate identification of victims who choose to stay at home instead of reporting at health facilities," he said over the phone.
Quarantine would be ineffective at this stage as authorities were striving to identify the disease, he added. A health consultant, Dr Elisha Osati, said; "Laboratory experts should be immediately dispatched to the area for sample collections that will facilitate quick diagnosis, if possible."
The government should consider ways to assist the people of Maruku, where the outbreak was detected, according to Ms Editha Kajumuro, a resident of Kahororo village in Kagera .
"This is because, according to what we've been told, there are still uncontrolled gatherings there, especially around public transportation," she observed.
A nurse who sought anonymity said they are taking all possible precautions as they establish whether relatives of the deceased have been infected. Last year, Tanzania identified an outbreak of leptospirosis, or "rat fever," which killed three.