Prime
Samia calls for action against traditions that promote teen pregnancy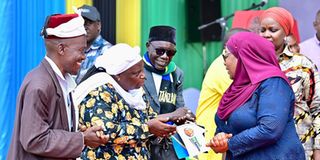 What you need to know:
The President, who is on a five-day trip to Mtwara and Lindi, has expressed her disapproval of a sexualized social occasion performed by numerous tribes in Mtwara as part of the Unyago culture.
Dar es Salaam. President Samia Suluhu Hassan has voiced dissatisfaction with a number of traditional practises that hurt females in Mtwara and elsewhere.
Specifically, the President, who is on a five-day trip to Mtwara and Lindi, has expressed her disapproval of a sexualised social occasion performed by numerous tribes in Mtwara as part of the Unyago culture.
Though a number of ethnic areas of Tanzania do practice Unyago in their various forms, the way the tradition is practiced in Mtwara is in such a way that it is perceived to be a particularly sexualised social occasion where young girls learn how to satisfy a man sexually and how to take care of a household.
While the basic objective of the tradition remains within the tribal traditions of initiation into adulthood, it is the age of the girls who actually go for Unyago that the President found rather mind-boggling.
She blamed the practice on an increase in teenage pregnancies, asking leaders in the region to rethink it.
"I have gathered information that the number of hostels is partly to blame for early pregnancies, but the Regional Commissioner and District Commissioners here must also look into how these traditions are fueling the rise in early pregnancies, which destroy the future of these girls," said President Hassan as she addressed a public rally at Masasi yesterday.
She said the traditional rituals, conducted soon after harvesting time, also consumed a good chunk of what farmers in Mtwara earned.
"I am not saying that we should stop this tradition, but we must have a relook into it. Do it at the right age when these girls are able to be self-aware and not when they are too young to understand what they are up to," she said.
She urged Mtwara residents to cultivate a culture of reducing their hard-earned money through unproductive means.
Meanwhile, President Hassan was vividly discontented by leaders at the Masasi District Council for their failure to source funds to build a room in which to install an X-ray machine at the District Hospital. She said it was unfortunate to learn that the district council has failed to source Sh250 million for the room to accommodate a machine that cost the government millions of shillings to buy.
President Hassan said it was unfortunate that the district council has failed to provide services to people simply because of a lack of room to accommodate a modern X-ray machine.
"This is not a challenge to bring to the President... The district council cannot rely on the central government for everything. You are not serious. We said that 40 percent of local governments' own funds should go to development," said President Hassan.
In another development, President Hassan warned leaders who exploit farmers by deducting funds from every kilogramme of crops they sell on the pretext that the money [the deducted amount] would be channelled to the development of their areas.
"I have information that the funds, deducted from the sale of farmers' crops, are spent on development projects. These projects do not legally exist, and thus they are not audited, and as such, they do not return the expenditure report to the people so they can see how their money was spent," she said.
In that regard, President Hassan directed the Mtwara Regional Commissioner and the Masasi District Commissioner to trace the funds, reportedly collected by officials at Lulindi and Chikukwe wards. "I did not say that they should not collect money for development, but that the funds should be known by law and how they have been spent.
The money belongs to farmers, so we cannot keep quiet when you collect and never show how it was spent," she said.
Speaking at the event, the Minister of State in the President's Office (Regional Administration and Local Governments), Mr Mohamed Mchengerwa, said there were some challenges that needed to be solved at the local government level, including the construction of school toilets.
"Development plans in any council should start being discussed at the village level. We have the village councils, and therefore, there is no reason to come to the national level [at the central government level] and ask for toilet holes while you have the income...," he said.
On his part, Land, Housing, and Human Settlement Development Minister Mr Jerry Silaa promised to make some reforms in the land commission so it can go in line with the government's admired speed of dealing with people's needs and grievances.
On the other hand, Minister of Livestock and Fisheries, Mr Abdallah Ulega, said that in collaboration with other ministries, the ministry will ensure that it sets up livestock feeding infrastructure to eliminate conflicts between pastoralists and farmers.
"We will take strict measures against the pastoralists who intentionally pass their livestock to farmers' fields; we will not shame anyone or bully them," he said.