Samia highlights areas that require additional attention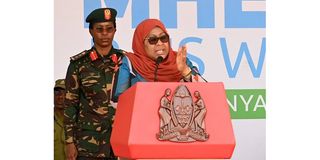 Summary
Her main points included resolving land disputes, promoting safety and security, and combating climate change
Dar es Salaam. President Samia Suluhu Hassan outlined six important directives that require special attention if Tanzania is to successfully pursue its development goals.
The President listed the following topics during his speech yesterday in Manyara: resolving land disputes, fostering safety and security, battling climate change, ensuring food security, farmers' registrations for subsidised fertilizer, and fewer incidents of gender-based violence.
She then directed the region's social services and legal authorities to oversee that these GBV problems are addressed and the public is educated and made aware to avoid future harm.
 "Manyara is changing economically, and I urge you to change your behaviours," she said.
The head of state stressed that such actions do not favourably represent a country that is renowned for its peace and harmony in addition to issuing a warning against misconduct and criminality from the people against one another.
 "Despite the nation's overall tranquility, there have been a few instances where people have broken the law without following the rules, which is not beneficial for the nation.," she said.
On the global fears for food insecurity in the future, President Hassan instructed regional authorities in Manyara to continue emphasising on production and building proper storage facilities.
"There is no need for Tanzania to be concerned about famine, which is why we have taken all essential steps including producing seeds and creating effective irrigation systems.," she said.
On that note, the President also warned about the destruction of environmental resources as the consequences of climate change became more visible.
Additionally, President Samia urged lawmakers in the nation's north to refrain from instigating land disputes by supporting invaders in order to boost their popularity ahead of elections.
"Some politicians are aware that individuals are encroaching on property that was set aside for another use, but they refuse to do anything about it out of concern for their reputation as "bad guys" and in an effort to win support for the upcoming elections.. This should to stop," she said.
The registration of farmers, which is taking place all around the nation in order to distribute subsidised fertilizers, was also highlighted by the President.
"Some farmers reportedly hesitate to register out of concern that it may be used to collect taxes, which it is not. This activity is crucial and advantageous for you.," she said.
Earlier, Agriculture minister Hussein Bashe revealed that during last year's agricultural season in addition to climate change, the supply shortage of fertilizer had a huge impact on the drop in productivity. "The government set aside Sh180 billion for subsidies, and now available across all regions in the country. So every farmer must go and register in the established system to qualify to get the subsidised fertilizers," he said.
On the GBV, President Hassan said Manyara with 3,641 cases as per last year's report, Manyara was among the regions with the highest cases.
"In those reported cases, 792 were physical violence and 708 cases were sexual violence against children. This is not a good record for the region," she said.