Serengeti in dire need of more accommodation properties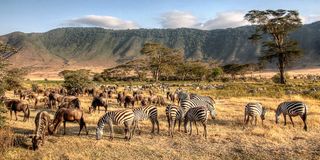 Arusha. The Tanzania National Park (Tanapa) management is set to roll out new investment plans to attract more investment accommodation properties in the Serengeti.
At the moment Serengeti has five permanent lodges, 25 tented camps and 181 Seasonal Public Camping areas but under the current General Management Plan, the National Park has exhausted all the precincts initially allocated for erection of accommodation properties.
The Principal Conservation Officer of the Tanzania National Parks, Victor Ketansi said the current 10-year general management plan for Serengeti which ends in 2024 had apportioned special areas for accommodation properties and all have been occupied at the moment.
 "At the moment Serengeti is in dire need of at least 1500 more beds," said Ketansi, adding that this calls for more property investments in the National Park.
Conservator Kentansi explained that with the new GMP which goes into effect from next year, it is being anticipated that Serengeti will allocate more areas for additional properties.
The hotels, lodges and campsites currently operating in the Serengeti have a total capacity of 1700 beds.
Principal Conservation Officer, Victor Ketansi said the Tanzania National Parks also operates a hostel with 76 beds, a rest house at Seronera with 8 beds and 24 cottages.
There are also 181 Seasonal Public Camping areas that can take additional 3,621 people when at full capacity, usually during major event seasons such as the annual wildebeest's migrations.
Serengeti, measuring 14,763 square kilometers, is the third biggest National Park in Tanzania after Nyerere and Ruaha.
Serengeti is the country's most popular destination attracting over 350,000 visitors annually, which is an average of 6,731 tourists per week.
The total accommodation capacity for Serengeti National Park, including public camping sites is 5321 beds at the moment, which is not enough to handle big traffic.
Under the Serengeti's proposed new General Management Plan the National Park therefore intends to add 1500 new beds in the destination.
Catherine Mbena the principal communication officer of Tanzania National Parks said usually Serengeti gets crowded during high tourist season and migration time that falls between June and October of each year.
"The other peak time for tourists is during the wildebeests calving season which falls between January and February of each year, mostly in the southern parts of the park," she said.
On average, Tanzania receives around 1.5 million tourists per year. The country anticipates an increase in the number of foreign visitors to reach 5 million by 2025.