Stage set for women and technology conference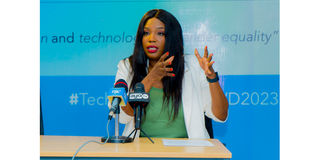 As part of the 2023 International Women's Day celebrations which runs under the theme 'Innovation and Technology for gender equality' the Launchpad Tanzania is set to host the women and technology conference on March 7.
Speaking to reporters on Thursday, Launchpad managing director Carol Ndosi said, they decided to host the event in order to align with this year's theme for the Women's Day.
According to her this the first time they are hosting the event and it will offer opportunity for women in technology space to meet both virtually and physically.
"The conference aims at promoting women and technology in Tanzania and designed for women and by women will have different activities including open conversations featuring keynote speakers from different fields," said Ndosi.
She further said, the conference will take place at the Julius Nyerere International Conference Centre and it will consist of virtual and physical exhibition and different topics from development partners will be discussed as well as innovative solutions will be discussed.
Faith Amos, a representative from the Tanzania Commission for Science and Technology (COSTECH) on her part said, they are working closely with the LaunchPad and they will utilize their Buni Divas project to support women with technology ideas but they do not know how to implement them and to support the ideas which are implemented but facing challenges.
Women and technology conference has so far been supported by the Ministry of Education, Science and Technology, Ministry of Community Development, Gender, Women and Special Groups and The Swedish embassy in Tanzania.
The Launchpad Tanzania is a Non-Governmental Organization established in 2018 with a mission to contribute to skills development, education reforms and digital inclusion targeting women and youth through capacity building and advocacy programs.
The Launchpad Tanzania also has an arm that specifically addresses digital inclusion called LP DIGITAL that is currently implementing several programs like Mitandao Na Sisi, Dijito na Mimi fellowship and Digital Tanzania.