Tanzania delays oil, gas drilling by two years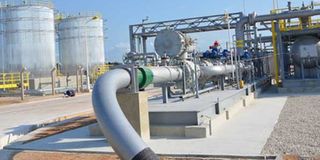 What you need to know:
Review of Production Sharing Agreements with the 11 active licensed operators and flactuating global oild na gas prices said to be reasons for extension of the blocs allocation period.

Dar es Salaam. Oil-and-gas prospectors have ample time in which to prepare themselves before the government authorises a new bidding round for natural gas exploration as it buys time, hopping for improvement in global prices.
The acting director general of the Petroleum Upstream Regulatory Authority (Pura), Mr Charles Sangweni, said Tanzania will announce the fifth bidding round for natural gas two years from now – and in which prospective investors can bid for any of over 20 offshore and onshore exploration blocks.
He told the Oil-and-Gas Congress-2019 meeting in Dar es Salaam yesterday that the government wants time to finish reviewing Production Sharing Agreements (PSAs) with the 11 active licensed operators – and also closely monitor global prices changes.
"We need two-to-three years from now. However, the PSAs have already been reviewed and they are currently in the office of the Attorney General (AG) for further legal refinement," Mr Sangweni said.
When the AG is done with examining the legal aspects of the PSAs, the government will also need time in which to assess global market prices before announcing a new bidding round.
To that end, he counselled local and foreign prospective investors to prepare for the bidding round.
"Intending investors should prepare competitive proposals, showing how they intend to conduct exploration, as well as perform other statutory requirements like paying taxes, royalties, land acreage fees, training – and giving back to society," he said, stressing that ultimately, the winners will be only those who would have shown competitiveness in their proposals.
Established under Section 11 of the Petroleum Act of 2015, Pura's mandate is to regulate and monitor upstream petroleum operations and liquefied natural gas (LNG) activities in Mainland Tanzania.
The government – working through the state-run Tanzania Petroleum Development Corporation (TPDC) – offered seven deep offshore exploration blocks and one onshore block, in October 2013 for oil and gas exploration. Since then, no new round has been conducted.
New PSAs are to be in line with two of the country's new laws on natural resources exploitation.
In 2017, the Union Parliament endorsed two new legislative pieces, and amended several others through the Written Laws (Miscellaneous Amendments) Act, 2017. The general idea was to come up with functional changes in the management of Tanzania's natural resources.
The new laws – the 'Natural Wealth and Resources Contracts (Review and Re-negotiation of Unconscionable Terms) Act, 2017,' and the 'Natural Wealth and Resources (Permanent Sovereignty) Act, 2017' – have far-reaching changes that seek to rectify several shortfalls in the way the country has been managing its natural resources.
Some of the shortfalls are poor management of exports of mineral concentrates; mining tax evasion and avoidance; evasion of income tax through cheating of the actual value/price of products and services; mining companies' cheating on their operational services and costs, as well as poor collection of royalties.
Mr Sangweni told The Citizen in a recent interview that exploration activities were still going on. However, the number of firms conducting exploration had dropped from 17 in 2012 to only eight.
Data produced by Pura show that Tanzania has so far drilled a total of 96 wells, 52 of which turned out to be dry. Natural gas was found in 44 of the drilled wells.
Some 43 of the dry wells were drilled onshore, with the other nine drilled in the deep sea," he revealed.
The trend, he said, meant that there was a higher potential of natural gas discovery in the deep sea than onshore.
According to him, drilling a single well in deep sea costs up to $100 million, while drilling a well onshore costs $30 million.