Tanzania government cancels Sh100bn Sagcot scheme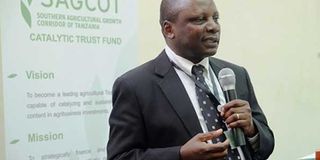 Dar es Salaam. The government has cancelled a project that was to avail over Sh100 billion in funding to smallholders under the Southern Agricultural Growth Corridor of Tanzania (Sagcot), The Citizen has learnt. This follows failure to agree with the World Bank modalities to dole out $47 million in Matching Grant Fund (MGF).
The MGF facility aimed to equal private investment with public funds and was backed by a World Bank loan worth $55.6m, which the Bank is now withdrawing on the government's request.
The consequence is that hundreds of small holder growers who anticipated to obtain vital capital for agricultural investment in the ambitious Sagcot project have their hopes dashed. Sagcot Catalyst Trust Fund CEO John Kiyaruzi confirmed the project was indeed shelved but told The Citizen the government would pursue other means to empower the farmers.
World Bank manager for Africa communications Steven Shalita separately confirmed that the government requested the cancellation of the Sagcot Investment Project in December 2018.
"The project made available $55.65 million for the second Component Strengthening Smallholder Business Linkages of the Sagcot Investment Project, under which the Matching Grant Fund was to be implemented although no matching grants were awarded," he said in an email sent to The Citizen.
Mr Kiyaruzi said the investment project was cancelled due to "non-performance." He blamed delays in funds disbursement for the reason, noting the fund was to start in 2016 and end in 2021.
"At the moment, I cannot disclose the actual reason that contributed to the delay, but there was too much paperwork, audit sensitizing that took almost three and a half years," he said.
He told The Citizen that the Sagcot Catalist Trust Fund project will be wound up within a week for what he termed no value for money to enable them to decide whether to restructure the project, request again for the World Bank grant or look for another loan.
He stressed that the government's aim is ultimately to see small holder famers become a powerful component of agriculture and "not continue to be used as guinea pigs."
The idea to fund smallholder farmers was mooted when Tanzania hosted the World Investment Forum in the early stage of President Jakaya Kikwete's second term in office.
Since 2011, several initiatives were started to help farmers until 2016 when the World Bank committed to scale up the investment through a loan facility of up to $70 million (Sh161bn).
Mr Shalita was however optimistic that despite the cancellation, the broader Sagcot programme would continue with support from other development partners to increase the adoption of new technologies and marketing practices to strengthen smallholder agriculture in Tanzania. Sagcot was one of Mr Kikwete's favourite projects, touted globally as a radical policy to support smallholders while promoting foreign venture capital investment in the sector.