Tanzania's borders are safe, despite minor threats, says defence minister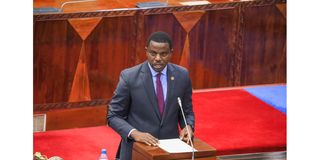 Summary
Sh2.767 trillion will be used to finance the ministry of defence's recurrent expenditures, whereas Sh222.8 billion will be spent on development projects.
Dar es Salaam. Tanzania's Minister of Defence, Mr. Innocent Bashungwa, said on Wednesday, May 24, that the country's borders on both land and water are safe despite hostility and threats from some neighboring countries.
Mr. Bashungwa was speaking in Parliament while tabling his ministry's budgetary estimates for the 2023–24 financial year, seeking an endorsement of Sh2.9 trillion for defence and security.
He said that despite stability at the borders, some areas face threats, such as the borders with Uganda and Kenya, which are threatened with illegal immigrants who commit crimes that threaten the country's security.
According to him, the borders with Burundi, Zambia, and Malawi are all safe.
The security situation in the India Ocean, where Tanzania borders with the Comoros and Seychelles, is faced with various challenges, including illegal fishing, smuggling, human and drug trafficking among others.
"Because of this, the Tanzania People's Defence Forces (TPDF) regularly carry out patrols in the Indian Ocean to combat these challenges," he said.
However, the minister said the southern border security situation has been unpredictable due to the presence of the terrorist group Ansar Al Sunna Wal Jammah (AASWJ) in the north of Mozambique, in the coastal areas, and in the border areas closer to Tanzania's Mtwara Region.
"On the border between Tanzania and DR Congo, there was no information reported that endangers the country's security."
However, he noted that the presence of militia and insurgent groups in the east of the DRC, including the March 23 Movement (M23), the Allied Democratic Forces (ADF), the Cooperative for the Development of the Congo (CODECO), the Democratic Force for the Liberation of Rwanda (FDLR), and Maimai, continues to pose a threat along the border.
In another development, the Parliament has endorsed a Sh2.9 trillion budget for the Defence and National Service Ministry for the 2023–24 financial year.
Of which, Sh2.767 trillion will be used to finance the ministry's recurrent expenditures, whereas Sh222.8 billion will be spent on development projects.
Priority areas in the budget include capacity building and developing the infrastructure of the National Service (JKT) to accommodate more youth for skills development.
Bashungwa outlined other priority areas, such as the purchase of weapons and military equipment that align with technological and communication advancements, in a bid to improve TPDF's capacity.
He added that the ministry would also strengthen organisations and institutions for military research, including the establishment of defense industries for the production of goods and services for the defense forces and the public.
The ministry will also intensify bilateral relationships with international, continental, and regional organisations like the United Nations (UN) and the African Union (AU) in the areas of defense and security.