Tanzania's global drug kingpin is unmasked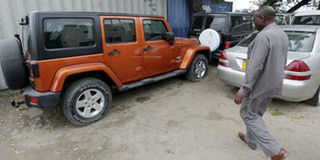 What you need to know:
The US describes him as a major international baron who smuggles multi-ton shipments of heroin and cocaine

The US government formally identifies Ali Khatib Haji, alias Shkuba, 46, as the leader of an elaborate drug trafficking ring and freezes all his assets under its jurisdiction.

Dar es Salaam. Until February 2014 when he was arrested, Ali Khatib Haji alias Shkuba, 46, was the most wanted and most powerful drug kingpin in Tanzania.
A man with deep pockets who was credited with leading a powerful drug cartel operating principally in East Africa but with influence extending to as far as the US, South America, Japan and the UK, Shkuba became almost untraceable and untouchable, even as authorities relentlessly plotted his capture.
His role in the international heroin and cocaine smuggling business came to light for the first time in February 2014 when the then head of the Anti-Drugs Unit (ADU) Godfrey Nzowa, personally seized him shortly before he took a flight to South Africa.
And the move on Wednesday by the US government to list him among the world's most notorious drug traffickers only served to reinforce the position that Shkuba would be unrivalled as Tanzania's top drug baron, according to the charge.
The US announced it had frozen all of Shkuba's assets that are within its jurisdiction and banned its citizens and his associates from engaging in transaction with the Tanzanian. It was not immediately clear what properties he owned in the US.
The US Department of the Treasury's Office of Foreign Assets Control (OFAC) announced it had identified Shkuba and apparently his 'Hassan Drug Trafficking Organisation' as significant foreign narcotics traffickers.
"Today's action imposes sanctions on Ali Khatib Haji Hassan and his illicit drug trafficking network for smuggling heroin and cocaine around the world and seeking to use their illicit profits to bribe African government officials," said OFAC acting director John Smith in a statement posted on the official website of the State Department. 
"Narcotics traffickers like the Hassan Drug Trafficking Organisation pose a significant threat to the international financial system and regional stability, and the Treasury remains committed to exposing and targeting those fuelling the global drug trade," he added.
The US government described Shkuba as a major international drug kingpin who smuggles multi-ton shipments of heroin and cocaine to Africa, Europe, Asia, and North America via his East Africa-based drug trafficking organisation.
By the time then anti-narcotics buster Nzowa arrested Shkuba at the Julius Nyerere International Airport (JNIA), the 46-year-old had avoided arrest for long.
Upon his arrest, he was charged with trafficking 210kg of heroin worth around Sh10 billion. Anti-narcotics police seized the drugs in Lindi in January 2012 and linked him with the haul.
Shkuba reportedly flew to South Africa the same day (February 2012) the drugs were seized and remained there for two years before he returned and got arrested.
The US charge show that Shkuba was travelling around the world on five different passports issued in Zanzibar. The passports numbers included: AB269600, AB360821, AB564505, A0389018 and AB179561A0010167.
His travel document depicts him as a resident of Zanzibar and has been using different names. The names are: Hassan,  Ali Khatib Haji (a.k.a. Alex, Maiko Joseph; a.k.a. Haji, Ali Khatib; a.k.a. Haji, Ali Khatibu; a.k.a. Shakur, Abdallah; a.k.a. "Shkuba"; a.k.a. "SHKUBA").
Anti-narcotic police in Tanzania had earlier in 2007 arrested and charged Shkuba with the murder of a young Tanzania who died in China after drugs he has swallowed burst in his bowels. According to police reports, Shkuba used the victim as a courier. He was, however, acquitted after the Director of Public Prosecutions (DPP) dropped charged against him for lack of evidence.
In 2009, ADU arrested Shkuba and bonded him over and asked the Ilala District court to place him under the watch of the police and court because they had reliable information he was a notorious drug dealer.
A junior police officer who took part in arresting him in 2014 describe him as being "big headed and the most arrogant drug suspect we have ever arrested." He reportedly told Mr Nzowa that he was wasting his time to deal with him for he will soon be set free. He also refused to record a statement with the police and reportedly told them he will only speak in court.
Yesterday, Lindi Regional Police Commander Renata Mzinga told The Citizen that Shkuba was still being held in the area pending conclusion of the drug trafficking case against him. This is the longest time that he has stayed in custody—exactly two years now.
According to US authorities, Shkuba's Drug Trafficking Organisation obtains multi-ton quantities of heroin from sources in Southwest Asia as well as multi-tonne quantities of cocaine from South American suppliers.
According to the statement, since at least 2006, the man has directed members of his network to send shipments of heroin to destinations including China, Europe, and the United States. 
"Hassan served as the primary distributor for Tanzania-based drug traffickers who regularly received multi-hundred kilogramme maritime shipments of heroin from the Makran coast of Pakistan and Iran.  Hassan also oversaw an extensive drug network in Latin America that distributed South American cocaine into East Africa en route to Europe and China," says the US government.
Shkuba was also among 12 people appearing on the list of notorious drug traffickers released by a Tanzanian prisoner in Hong Kong in August 2013.
He now becomes the first alleged Tanzanian drug kingpin to have his assets frozen by the US government. US authorities also made a similar order in 2011 against a Kenyan woman Naima Nyakiniwa alias Mwanaidi Mfundo or Mama Leila and Kenya's maverick politician Haroun Mwau in a similar list to that issued against Shkuba. The woman is interestingly being held in Tanzania where she was charged with trafficking drugs in 2012.
Leila and the politician were listed in 2011 by the US as wanted suspects over drug business. US president Barack Obama also froze their assets in the US.
Commenting on the development, the now retired Mr Nzowa, said: "He (Shkuba) is the most arrogant, aggressive drug trafficker who used threats all the time."