Prime
Teen mothers face school re-entry struggle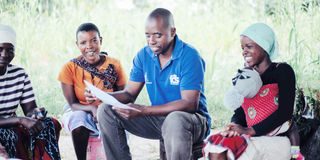 What you need to know:
Many impregnated schoolgirls have failed to resume studies despite being allowed by new guidelines.
Dar es Salaam. For thousands of teenage mothers whose studies were interrupted by pregnancy, the lifting of a ban to continue with their studies was a rare lucky.
It was like a death-row inmate given a second chance at life and liberty.
Many were happy at the announcement that came months after President Samia Suluhu Hassan's administration allowed adolescent girls to study in public schools.
The decision was accompanied by re-entry guidelines for the victims issued by the Education ministry.
However, to many others who are trying to return to school, the reality of daily life has quelled their desire to fulfil that dream.
Two years after the decision, as significant number of young girls, particularly those who got pregnant while in school, have failed to return to school on a number of reasons.
A 19-year-old Beatrice Muruga (not real name), who lives at Mtanana-B, Kongwa District, Dodoma Region doesn't know what to do. Economic difficulties her aging guarding go through are so challenging that she cannot leave her child behind for school.
"I want to go back to school but I am the sole bread winner in our family. I sale charcoal to feed my child and my aging guardian. At school, there is still no arrangements that allows me to have my child around or close to me," she tells The Citizen in an interview.
According to her, there are four girls in their village who got pregnant and stranded at their home, working to support families and kids. She says only one has managed to return to school because her parents agreed to stay with the child and sent her to study in another region.
"I like what her parents did for her, but to be honest the environment is do different for me," she explains.
Despite the challenges, Muruga believes she will have to do a short training that will enable her employ herself to support herself and child.
A survey conducted by Msichana Initiative, an organisation advocating for the right to education for girls in Tanzania revealed a series of challenges that these girls face.
The survey that covered two districts of Kongwa (Dodoma Region) and Nzega (Tabora Region) aimed to collect data on the views from stakeholders on re-entry guidelines and how they should be effected at the local, regional, and national level.
It also intended to provide a basis for evidence-based policy advocacy on the re-entry of school girls.
The study revealed, among other things, that eight out of 10 girls who got pregnant, equal to 85 percent, wish to go back to school. The remaining 15 percent need support and an enabling environment for them and their children so that they can study without encountering obstacles, including mental stress. This situation, according to the research, makes many choose to seek knowledge outside the formal education system.
They see that going back to school will waste their time and instead it is better to get training that will enable them to be self-employed within a short time.
About 15 girls who were interviewed in Kongwa District have said they were ready to go back to school, although 50 percent of them want an informal education system, including vocational training or entrepreneurship classes.
In Nzega District, the research shows, to some extent, there is an enabling environment for girls returning to school, although there are still challenges that need to be worked on.
Some of the girls who were interviewed also mention the lack of dormitories for students who live far from school, the lack of psychology teachers who can help them become psychologically strong while at school as among the obstacles.
November 2021 the government through the Ministry of Education, Science, and Technology pronounced the 'Education Circular No. 2 of 2021' that allows re-entry of school dropouts due to any reasons including pregnancies back to a formal system of education. This pronouncement changed the whole situation that was previously described as Tanzania's position in regard to pregnant school girls.
In February 2022, the ministry issued a guideline to reinstating students who dropped out of primary and secondary education for various reasons' which reflected the provisions of the 'Education Circular No. 02 of 2021'.
However, according to the findings of the research, there is no clarity provided by the government on the commitment to set a budget to support the implementation of the re-entry guideline and monitor its performance.
The majority of citizens are still not aware of the re-entry policy nor the guidelines.
The young mothers as well are not assured of the mandate of this re-entry –policy and worry it might be temporal.
Reacting to the findings of the research, the Permanent Secretary in the ministry of education, Prof Carolyne Nombo said the opportunity needed parents and guardians to put strategies to help raise the child so that the girl (mother) could go to school.
"We do not force them to return after two months, we have set up to two years to give them enough time to breastfeed and stay close their kids," she noted.
She also said there was also a chance in open schools: "If she sees that the formal system does not suit her, she can go to study at open schools which are even more flexible because it is one of the government systems."
Until last year, according to Prof Nombo, 3,300 students had returned through open schools.
She said they were still processing the statistics on re-entry in formal education.
Education stakeholders have advised the government to cooperate with the private sector to address solve the challenges that rag back girls who were given the opportunity to return to school.
While appreciating the role of the guidelines in providing the basis for the enrolment of teenage mothers in school, the experts say their effectiveness must be accompanied by adequate awareness.
They called for an awareness campaign for school leaders and teachers and collective effort to address the potential cultural challenges that may inhibit learning for the girls is suggested.
"There must be a collaborative process to help these girls return to school. Education should be given to parents/guardians and teachers about the best way to help these victims according to the guidelines," says Dr Deus Mbonde, an expert in education.
According to the Msichana Initiative's survey, the government through the Ministry of Education should set aside a budget for the girls who want to return to school to ensure a friendly environment for them to carry on with studies.
Another step that can be taken to curb re-entry challenges, they say, was to facilitate building of breastfeeding centres near the school areas.
The organisation recommends the legislation of re-entry guideline as law.
But Prof Nombo noted doesn't buy the idea: "This guideline does not have to be a law because soon after the new policy is passed, education will be for 10 years, so whoever is dropping out for various reasons will be capable of returning after two years."