Tightening the belt this festive season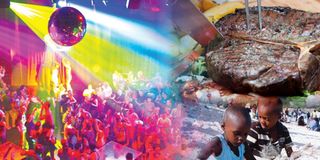 Summary
-Once bitten, twice shy. Some Tanzanians reveal how planning ahead has helped them save
-Early birds catching the worm. Smart holidaymakers are taking advantage of off-season deals
-Education first. Parents settling school fees before they splash money on holiday fun
Many seem to be applying the saying of the wise this festive season. Having gone through the hardships that come with January, many have learnt their lesson and are celebrating this Christmas with caution.
To avoid suffering the consequences of overspending, people have come up with strategies to ensure they both enjoy the festivities and live a normal life in January, which is sometimes referred to as NJAAnuary.
A resident of Goba in Dar Es Salaam, Naomi Mosha and her family are spending the end of year holidays differently this year to avoid problems in January.
The tradition in Naomi's family during Christmas includes buying clothes and shoes for the children, food and drinks, and being a Chagga from Kilimanjaro, they usually celebrate the birth of Christ in the village.
This time around, the family which is running on a tight budget will spend Christmas in the city.
"We have decided to cut down costs because travelling will cost us a fortune. On Christmas day, we will go to church and celebrate at home with family and friends because we don't want to incur extra costs," Naomi says.
Her family has so many important things to do in January such as paying school fees. "This is our first priority. The holidays should not make us forget our main responsibilities," she points out.
Dr Donald Mmari, an economist, offers a piece of advice. He says since travelling is a culture in some tribes, people need to check their budgets in order to avoid unnecessary spending.
"We can celebrate without too much drinking because apart from saving money, it helps avoid misconduct and accidents," says Dr Mmari.
Glory Msuya, a resident of Mikocheni in the city plans to spend Christmas with her parents in Kilimanjaro. She has decided to travel by bus instead of flying and will therefore save over Sh400,000 in air tickets. Instead of spending Sh 500,000 for flights to and fro, she will spend only Sh72,000 by bus.
"I travel every year and it's like a culture for us. I don't have enough money but I have learned to budget," says Glory.
Travelling is a must for Gloria as she finds the city too crowded. Holidays mean relaxing, having some quality time with her parents and doing an evaluation of what she has accomplished the whole year. To do so, she needs a quiet place and home is the best place.
To survive the January blues, schools too have come up with strategies to make sure they run smoothly in January. Many require parents to pay schools fees before the year ends.
Charles Malango, the Head teacher of Patmo Junior School says because most parents spend all their money during the holiday season, his school requires them to pay school fees well in advance.
"We require parents to start paying school fees from October because they overspend during Christmas and New Year and forget about school fees," says the head teacher.
He says after the festive season is over, some parents request to pay school fees in one or two months after the school opens having spent all the money in December.
"We need school fees to be paid before the holidays to avoid such inconveniences. Most people don't plan. They spend up to the last cent in December," he says.
The school head advises people to learn making short and long term plans to avoid problems. The headteacher who plans to travel to Mbeya with his family this holiday season planned for the trip since December last year.
He had been saving Sh 50,000 every month and specifically allocated his October salary for fare and all the holiday costs. He knew the December salary alone would not be enough to see him through January, which is why he had been saving all this while.
"I did not travel in 2016 and 2017 because my focus was on my studies then. I don't plan to travel in the next two years because I have other plans to accomplish in the period," says the teacher.
Elizabeth Fuime, a Manager at Elite Sprints Schools makes plans for the holidays in advance too.
She buys holiday stuff way before the holiday season sets in. She does so because prices shoot up during the season due to high demand.
Elizabeth advises people to always shop in advance and book tickets earlier if they plan to travel. Instead of using private cars each, friends and family can share costs by travelling in one car.
Elizabeth rarely spends the festive season in the village but when she does, she buys gifts for her family in the village two months in advance.
While these strategies have been a saviour to those applying them, they have been on the other hand hurting service providers who usually make money from the end of the year sales.
Halfan Mundamo, a trader at Mwenge market is worried if he will be able to make enough money for school fees this time.
"Business is not good at all. We don't have many customers this holiday season as compared to previous years. People are becoming more budget-conscious these days," says the trader. He adds; "We depend on the end of year holidays to raise money for school fees in January but unfortunately this year, there is not much holiday shopping. I don't know how I am going to survive January."
Halfan used to make up to Sh 500,000 a day. The maximum he makes today is Sh100,000 a day.
Like Halfan, Adela Kanje, also a trader at the market concurs that business is bad this year.
"In a season like this, people used to buy up to 200kg of rice to donate to orphanages and the elderly homes. This has since changed. The maximum that people are buying today is 50kg," she says.
Adela attributes the change to economic hardship, saying that people don't have money to spend like they used to in the recent past. That time, she says, people would start shopping for Christmas from as early as 15th December. Then, the market would be a hive of activity. "But today is 18th and there's no sign of shopping. We only have our regular customers," she notes.
Neither are people buying Christmas decorations as Sayuni Kawerd, who has been working at Christa book shop for seven years says.
"Business has not been the same in the past two years. The number of shoppers has been dropping by the day. As Christmas day drew near those days, I used to sell a lot of Christmas decorations. I used to make between Sh4million and Sh5 million a day. This has dropped to between Sh1.5million and Sh2 million a day. "
During the good days, Kawerd says people used to shop in bulk and that budgeting was not part of their life.
The clothing industry has not been spared. Gabino Erasto, a tailor in Sinza, would by now be spending nights in his tailoring shop trying to finish up customers' orders.
"I used to sleep in the office to be able to deliver people's clothes on time for Christmas and New Year. I used to get a lot of orders but this year, there is no difference between the holidays and normal months," he complains.
"I don't know why life has become so difficult, people don't have money. Things are very difficult for us business people for our income depends on workers. Their failure to spend hurts us so much for it means there is no income for us," he adds.
This has taught Gabino a lesson though. He will start saving early to avoid disappointment in December next year. He has made it one of his New Year's resolutions, to stop depending on December earnings to pay school fees.