Untold story of South African nurses who helped Tanzania after British nurses refused to work under black leadership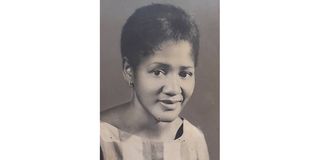 Summary
In 1962, President Julius Nyerere asked O. R Tambo to help recruit nurses from South Africa to reduce shortages of nurses in Tanganyika
A nursing sister, Kholeka Rosemond Tunyiswa, who may not be all that well known in South Africa, passed away in Dar es Salaam, Tanzania, on March 5, 2023. She was born in Port Elizabeth, now renamed Gqeberha, on November 29, 1932.
In order to understand who she was, it is appropriate to reflect on the role that she and her colleagues played in the post-independence nursing crisis in Tanzania. While they were never going to solve all the problems in Tanzania, they nonetheless played an important role in getting the nursing system functional.
When Tanganyika (subsequently referred to as Tanzania) obtained independence on December 9, 1961, it immediately faced the problem of mass resignations of British nurses who preferred to return to Britain rather than work under a black government.
In early 1962, President Julius Nyerere approached O. R Tambo, the acting president of the ANC, who was in exile in Dar es Salaam, to help recruit nurses from South Africa to reduce the negative effects of that gap.
O.R Tambo relayed the message to the leadership back home. Besides, black nurses in South Africa were also disgruntled by the new Nurses Act, which provided for separate training of nurses according to their racial group.
The ANC leadership inside South Africa put a system in place to source the nurses. Ambassador Sindiso Mfenyana, author of Walking with Giants, says a dedicated team was appointed to manage the process. The overall coordinator was Ahmed Kathrada, to whom provincial coordinators would report. Albertina Sisulu, who was a qualified nurse herself, was tasked with recruiting in the Transvaal. Johnny Makhathini was tasked with recruiting in Natal, and Govan Mbeki was to recruit in the Eastern Cape. As the ANC had been banned, the recruiting process became a high-level underground operation.
The nurses travelled from Johannesburg to Bechuanaland, now known as Botswana, in a bus driven by a white student from Wits University disguised as a priest.
At the border, the 'priest' told immigration officials that he was taking the nurses to Bechuanaland to attend the funeral of one of their colleagues. They crossed successfully. He dropped them at Fish Keitseng's house in Lobatse. Keitseng was involved with the ANC underground.
After waiting for a month, they were picked up by a chartered flight sent by the Tanzanian government.
At this stage, President Nyerere had appointed Ally Sykes as Liaison Officer for Liberation Movements. His grandfather, Sykes Mbuwane, was a warrior from Zululand who had arrived in Tanzania about 1886 to work with the German military in what was then known as German East Africa. He ended up settling in Pangani, in the northeastern part of Tanzania. He married a woman from the Nyaturu ethnic group, who gave him a son, whom he named Kleist Sykes. Kleist Sykes settled in Dar es Salaam, where he married and had a son, whom he named Ally Sykes. That is the grandson who ended up working with liberation movements such as the ANC, PAC, FRELIMO, Swapo, ZAPU, ZANU, etc.
Upon arrival in Tanzania, the nurses were received by President Nyerere, Ally Sykes, and O.R Tambo. Then, the 'Godfather of Dar's Exiles' – as Sykes was known—placed them in hospitals in Dar es Salaam, Mwanza, and so on. Edith Tunyiswa was placed at a regional government hospital in Mbeya, where she treated patients and trained and supervised local nurses. This was done by all the nurses in SA to upgrade their Tanzanian colleagues to the level of registered nurses. They also encouraged them to form the Tanganyika Nursing Association, similar to the South African Nursing Association.
Edith Tunyiswa also used her stay in Mbeya to help many ANC activists who were in transit to Dar es Salaam. She used her meagre salary to provide exiles with accommodation, food, and money for transport to their final destination. She was to look after the health of various generations in the movement through the decades.
The author of A Dream Fulfilled: Memoirs of an African Diplomat, Ambassador Thandi Lujabe-Rankoe, describes the Tunyiswa sisters as very loving, caring, and sharing. She was among the people who benefitted from Edith Tunyiswa's hospitality in Mbeya upon her arrival in Mbeya, Tanzania, in the early 1960s.
According to her daughter, Joyce Shaabani, Kholeka Tunyiswa worked in Tanga and Iringa in earlier days.
She later worked at Mwananyamala, Magomeni, and Mnazimoja—all hospitals in Dar es Salaam—until she retired in 1991.
This episode of SA nurses arriving in Tanzania was arguably and uniquely the first of its kind, where a Liberation Movement would assist in some way to solve problems of an independent country.
This episode, together with other forms of cooperation between the two parties, cemented relations between the ANC and the governing party, Chama Cha Mapinduzi, CCM, forever.
As the nurses were maturing in age, they also had to attend to their personal lives.
On November 15, 1967, Kholeka Tunyiswa got married to Mr Ramadhani Shaabani, a Tanzanian citizen who was in the diplomatic service.
Her elder sister, Edith Tunyiswa, married a member of the Luthuli Detachment, Aaron Pemba (MK: Ben Bella or Uncle B. B.). He had been a trade unionist of note in Port Elizabeth in the 1950s.
Nomava Ndamase married Vusi Afrika Shangase in 1963. They left for studies in the USSR. Thus, the original nursing sister, Nomava Ndamase, became Dr Nomava Shangase. She was the camp doctor of the June 16 Detachment at Novo Catengue, Benguela Province, Southern Angola, in 1977. There was also Dr Peter Mfelang in the camp.
Dr Nomava, as she was popularly known, moved with us to Quibaxe in 1978. She rescued me from my first bout of malaria. Sadly, she lost her life in a car accident in Angola in 1981.
Other nurses settled in Zambia and various parts of Europe. Victoria Magodla and Nosipho Mshumpela settled in Kenya. Edith Ncwana became Mrs Madenge in Tanzania.
"Aunt Kholeka"—as the golden nightingale was affectionately known—was my neighbour at Magomeni in Dar es Salaam during the years 1991/92. One day, as I left Radio Tanzania Dar es Salaam or RTD Studios after a Radio Freedom broadcast, I experienced high fever. I knew from previous experience that I had a serious bout of malaria. I rushed home to park the car. As I was too weak to drive myself to any hospital, I walked to Aunt Kholeka's place. As she was retired, she kept a medical kit at her place. She administered a chloroquine injection and gave me medication to take home. I was up and running in a day or two.
My taste buds as a younger man were very sharp. That often got me to visit Aunt Kholeka's family to sample Tanzanian dishes such as chapati, maandazi, vitimbua, and pilau. These were often accompanied by fruits such as mangoes, oranges, pawpaw, and cashew nuts.
Those days, we talked a lot with Aunt Kholeka about the group of 20 nurses. She lamented the fact that political exiles were going back home without the film documentary on the nurses they were once promised ever materializing. Edith Tunyiswa, Mary-Jane Socenywa, and Natalie Msimang are among the few who are known to have returned to South Africa at the dawn of democracy.
The story of the 20 Nightingales needs to be comprehensively documented in the movement's archives. Their contribution must never be forgotten.
It is now time to find ways to memorialise these heroines. It may also be time for South Africa and Tanzania to find ways of strengthening cooperation in the health sector, particularly in the nursing profession.
Ramadhani Shaabani, Aunt Kholeka's husband, passed on in June 2021.
Kholeka Rosemond Tunyiswa was cremated in a private family ceremony in Dar es Salaam on March 6, 2023.
May her soul rest in peace.
The author is a Gauteng-based Town Planner. He is a former political exile who spent many years working for the ANC's Radio Freedom in Tanzania, Angola, Zambia, and Madagascar.