Uproar over JPM ban on teen mothers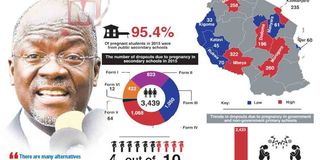 What you need to know:
For the second day in a row, the decision by the Head of State to slam the door on girls who become pregnant while in school dominated discussion on popular social media platforms.
Dar es Salaam. The condemnation of President John Magufuli's stance and remarks on teenage mothers' schooling is spreading, with women rights campaigners outside Tanzania demanding an apology and vowing to "blacklist" him.
For the second day in a row, the decision by the Head of State to slam the door on girls who become pregnant while in school dominated discussion on popular social media platforms.
Interestingly, the directive that public schools should not re-admit such girls goes against the government's own policy and also contravenes the ruling Chama Cha Mapinduzi's campaign pledge during the 2015 General Election.
Emotive discussions on the pros and cons of the ban exposed how divisive the subject is and exposed the gap that women and rights organisations needed to cover to bridge the gender gap.
Efforts to reach government ministers whose dockets and pro-girl child programmes could be impacted have been unsuccessful since Thursday when President Magufuli made the remarks.
It will remain to be seen, too, how the ruling party will explain the draw back on its own campaign promise, barely two years of its national chairman's five-year tenure as President.
Section 52(I) (ii) of the 2015-20 election manifesto provides for a second chance to education for schoolgirls who become victims of early pregnancies.
"All the girls who dropped out of primary school due to pregnancies shall continue with their studies," reads the CCM manifesto. CCM pledges free learning in public primary, a promise which has been implemented already.
In February 2016, the ministry of Education and Vocational Training issued guidelines on how to enable pregnant schoolgirls resume their studies.
The move was part of efforts to implement the Education and Training Policy (ETP) of 2014, which emphasises access and equity to quality education for all.
The policy focused on removal of all barriers that hinder learners, including girls' opportunities to participate fully and complete their education cycles at all levels of education.
According to chapter three of the guidelines, affected girls would be accorded one re-entry opportunity per school cycle and will be required to resume schooling within the year.
The guidelines allows that a young mother will have the choice to go back to the same or another school and be free to choose formal or non-formal learning. Zanzibar has also an elaborate policy on the same.
As local leaders and regional organisations weighed in with their views, the harshest of the criticism against Dr Magufuli came from Nairobi-based Africa Women's Development and Communication Network (Femnet), whose the Executive Director, Ms Dinah Musindarwezo, branded the Tanzanian President an enemy of women.
"That in this 21st Century, President Magufuli whom we thought pegged his campaign on a transformational streak can wake up one day and re-victimise teenage girls who fall pregnant while in school is incredulous and utterly disgusting, especially after all the efforts over the years to decriminalise teen pregnancies." said Musindarwezo in a statement.
"African women are strategising and mobilising with other women's rights organisations to compel President Magufuli to make an apology to Tanzania's girls and all the young women in Africa and retract that statement immediately," she said.
She urged Tanzanian civil society and other like-minded groups to team up and ensure the threat posed by the President's intent do not suffice.
"We are shocked and disgusted. It is a betrayal of the highest order. President Magufuli now stands blacklisted in our cause," said Kavinya Makau, an African feminist lawyer and women's rights defender. She bemoaned the decision which she noted was against the Protocol to the African Charter on Human and Peoples' Rights on the Rights of Women in Africa (Maputo Protocol) of which Tanzania ratified in March 2007.
The Director of Equality Now, Africa Office, Ma Faiza Mohammed said President Magufuli should address sexual violence in schools instead of denying young girls their right to education.
In Dar, the main opposition party, Chadema, condemned the President, with secretary general Dr Vincent Mashinji equating the order to a death sentence to a chicken thief.
"A Head of State must have a vision, his ideas should be broader enough to look at the problems in the community and seek the right solutions. And he must distinguish himself from other leaders under him," Dr Mashinji said in a statement. He said Dr Magufuli's statement "lacked wisdom."
Kigoma Urban MP and ACT- Wazalendo leader Mr Zitto Kabwe said the right to education was enshrined in the Constitution.
Speaking to The Citizen yesterday, the Hakielimu executive director, Mr John Kalage, said they are looking for an avenue to meet with President Magufuli to present their suggestions to overcome the situation.
"We have heard the statement of the president and respect it, however we still believe that there is a room for the teen mothers to get education," he said.
On her twitter page, Ms Rebecca Gyumi, who is founder of Msichana Initiative, said the emphasis on mass education to communities on the ills of child marriage should go hand in hand with changing the law.