US investor who fell in love with Tanzania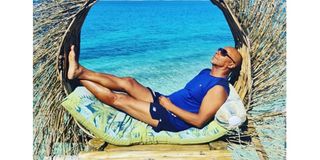 Summary
James Prevost, an American investor, first visited Africa in 1995. It was that first taste of the motherland that made him decide to relocate from the US to South Africa before ultimately moving to Tanzania. He shares his story with our travel correspondent, Anganile Mwakyanjala.
What motivated you to come to Africa?
I had a desire to come to Africa because of Mandela. He went on an American tour and spoke to US citizens. This sparked my interest in coming to Africa. I decided to come and see what Africa is about because back then all the images about Africa showed war, poverty, starvation, and famine. In 1995, I had the opportunity to accompany the mayor of Atlanta on a trade fair to South Africa. After I arrived, it was the exact opposite of what was shown to us. I was in Johannesburg. One time I went to the washroom, and I saw marbles everywhere. It was the first time in my life that I saw a full marble bathroom, and that happened in Africa. This was an eye-opener.
When the delegation left for Cape Town, I stayed back in Johannesburg and eventually decided to move there.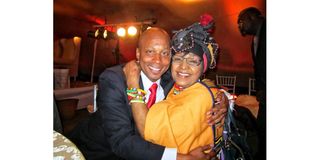 What made you decide to make that bold move—move to a new country, to a whole new world?
I wanted a piece of mind. I was pretty successful in the US before I left. I was in real estate, as I am now. But in Atlanta, I represented a lot of A-list celebrities in commercial real estate. However, I got to a point where I didn't like the lifestyle. So, I gave all my clients away, gave my brother my house and car, and gave a way a lot of stuff, and left the country.
I wanted to start over with the basics.
When was the first time you came to Tanzania, and what made you decide to visit?
The first trip was in 2007. The same reasons I left America for South Africa started happening in South Africa: people driving around in Ferraris and other posh cars. The economic boom in South Africa happened quickly. I left because people changed. The guys who had nothing and then later became rich started treating people poorly. Even the friendships became plastic. So I decided to leave because I wanted to slow down. I consider Tanzania real Africa.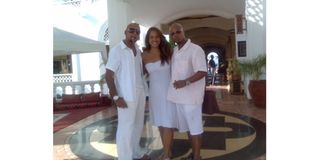 So, did you come to Tanzania as an investor?
No, I was invited by a good friend called Abby Plaatjes, from Big Brother. I used to promote international comedy in South Africa. So when DSTV saw me on a behind-the-scenes look at one comedy show, they brought me here to promote standup comedy. Once I got here, I was like, "Wow, this place is amazing." The people were very friendly. At the end of the day, it's the people that make a country.
What did you first do when you got to Tanzania?
I took some time out and was on vacation for an extended period of time. I took a four-year sabbatical. Prior to that, I had never taken a break in my entire life. So I stayed in Tanzania on holiday for five or six months, then I started volunteering. I volunteered so I could understand the business acumen and culture of the country. After that, every year I would come to Tanzania to relax. So for seven years I did no business in Tanzania. I came here for two months every year for seven years without doing any business; all I did was observe and enjoy the culture.
When you came to Tanzania to relax, what activities did you do? Did you go on safari?
No, I didn't go on safari. I relaxed at the beach in Zanzibar.
For a person who hasn't been to Zanzibar, what are some of the activities or places you would recommend for them?
The best coast to be on in Zanzibar is either the Nungwi, Kendwa, Paje, or Jambiani coasts. That's the east coast or the north coast. They are both very different, so I would definitely visit those coasts. They have great hotels; there's a tourist sanctuary in Nungwi; there's Prison Island. Then there's Stone Town, which is a must. There's no reason to go to Zanzibar and not visit Stone Town. If you miss Stone Town, you miss the essence of the island.
What I find interesting about Stone Town is that every building is built from coral rocks. It is a heritage site, and even when a building collapses, it will be rebuilt using coral rocks. The place is filled with so much history and culture.
You have to spend a few days walking through the alleyways, buying from the street vendors, and visiting Forodhani Park.
However, for the many years I've been in Zanzibar, I've not done a lot of tourist stuff apart from Prison Island and going to the beach.
Why is that, and I was told you like boats; how do you find that relaxing?
Well, I like the beach, and I'm a boat fanatic. I don't like swimming in the ocean; I like being on top of it. So, any day of the week, you'll find me on a boat; I don't care whether it's a dhow or a yacht.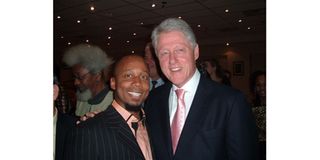 Have you tried to do some fun activities on the mainland as well?
I did a bit of traveling during my vacation time after I moved here—I went to the Serengeti and visited Arusha. I and friends stayed at a lodge in the Serengeti; it was amazing. Every tourist coming to Tanzania should spend a couple of nights in a national park.
You can compare Zanzibar to Bali, Thailand, the Caribbean, or any island in the world, but when it comes to the Serengeti, it is incomparable. It doesn't exist anywehere else, not in that size and scale.
Have you tried to invite any of your friends to visit Tanzania or Africa in general?
When you get people in the US to leave, they want to go to Mexico, South America, or Paris. Africa is not at the top of their list. They say Africa is too far. Some people still believe the backward portrayal of Africa. But overall, they complain about the distance and airline costs. Most black Americans go to Ghana and South Africa. But since Corona happened, the influx of Americans in Tanzania, especially Zanzibar, has gone up substantially.
What do you think Tanzania can do to attract more African Americans?
The first is to promote how one can invest in an area. A lot of people arrive here and have done no research. Americans are bad at not doing research. Some don't even know that you need a residence permit to stay here.
I think it will also be advantageous if the government starts investment courses so that every investor can go through the course before they start investing. One will have a better chance of surviving in business if they take the course. The courses should teach investment knowledge and Tanzanian culture.
Also, the tour operators and the guys at the beach need to be trained on how to deal with tourists because some of these investors first come as tourists.
What's your advice to anyone looking to invest in Tanzania?
First, don't make your first trip an investment trip because you will see everything differently. Come to visit, spend time, and absorb the culture. If you get the culture right, investment is easy. Do not be rude; do not raise your voice at people, because that is not Tanzanian culture. Tanzanians are very kind, but they don't care about your money if you disrespect them.
What motivated you to share your entrepreneurial knowledge with Tanzanians?
My primary mission is to be a catalyst to help develop the real estate industry. If I'm able to bestow that knowledge on people, no one will be able to take it away from them. So, even if in nine or 10 years I'm not around, the industry will continue with or without me.