US promises more support for Tanzania's development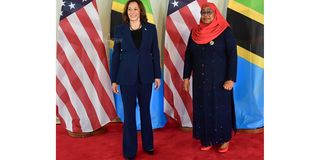 Summary
$560 million (Sh1.3 trillion) in bilateral assistance in the next financial year is among pledges made by the US as part of efforts to foster relations
Dar es Salaam. Impressed by widening democratic space in Tanzania, the US yesterday pledged to support long-term economic development in the country.
US Vice President Kamala Harris said in Dar es Salaam that Washington was looking forward to fostering bilateral relations with Tanzania in key areas such as economic growth, good governance and democracy, mitigation of the impact of climate change, as well as regional and global integration.
Ms Harris made the remarks when she addressed a joint press conference with President Samia Suluhu Hassan at State House following her arrival for a three-day official visit on Wednesday evening
In support of bilateral engagement between the two countries, the US intends to provide $560 million (sh1.3 trillion) in assistance in the 2023/24 financial year.
Tanzania also signed a memorandum of understanding with the Export-Import Bank of the United States that will facilitate US exports to Tanzania valued at up to $500 million.
"This will be in the areas of transportation, infrastructure, digital technology and clean energy projects," Ms Harris said.
She added that the US has also helped facilitate a strategic partnership between Life Zone Metals and TechMet, a company partly owned by the US government through the US International Development Finance Corporation (DFC), in the execution of the Kabanga nickel mining project.
The project is expected to leverage Life Zone Metals' lower-emission technology to process cleaner nickel and other critical minerals mined in Tanzania.
"This will deliver battery-grade nickel to the US and global markets as soon as 2026. This project is an important pioneer model that uses innovative and low-emission technology and high labour standards," Ms Harris said.
This, she added, will help in addressing the climate crisis, build a resilient global supply chain and create new industries and jobs.
Ms Harris added that the US administration is currently working with partners to identify additional opportunities for critical minerals from the region to also be processed through this new facility.
President Hassan noted that Tanzania has enjoyed solid bilateral relations with the US for several decades, especially in fiscal support, investment and trade.
She noted that there are still opportunities for Americans to strengthen these economic ties through increased investment.
"There are opportunities to invest in areas such as fishing, aquaculture, salt mining, gas extraction and marine technology," she said.
The President also asked the US to consider extending for at least ten years the African Growth and Opportunity Act (Agoa).
Enacted in May 2000, Agoa is the cornerstone of US economic engagement with countries in sub-Saharan Africa. The agreement provides duty-free access to the US market for eligible nations, including Tanzania.
"We request that this legislation be extended to at least 2030 to make it possible for investors who seized the opportunity to have further access to what is a reliable market," President Hassan said.
Another request by Tanzania was a review of visa status.
President Hassan said it was time the two countries sat down and discussed the possibility of long-tenure visas to allow the more interaction in trade and other economic undertakings.
Following the outbreak of Marburg Viral Disease (MVD) in Kagera Region, the US government has promised to extend $1.3 million to support the response to the disease in the country.
"I commend the Tanzanian government for its transparent response to the Marbug Virus. Your continued coordination and information sharing with international partners has been critical in containing the spread of the virus," Ms Harris said.
Five people have since died of the disease in Kagera Region after displaying symptoms such as fever, vomiting, diarrhoea and bleeding through various body openings.
There are also plans for the US President's Malaria Initiative (PMI) to invest $39 million over the next year in partnership with the Tanzanian government to deploy lifesaving interventions proven to fight malaria, including bed nets, fast-acting malaria medicines, rapid diagnostic tests and preventative treatments in pregnancy.
These funds are intended to support stronger, more resilient health systems by training health workers, strengthening supply chains and improving data monitoring.
Through Power Africa, US Agency for International Development (Usaid) intends to provide $600,000 to work with private sector telecommunications and technology companies and the government of Tanzania to expand clean energy services and provide electricity for as many as 100 health facilities in western, central and southern Tanzania.
Through Usaid, the Americans are also going to implement an $8.4 million five-year program, dubbed 'Heshimu Bahari' to support ecological resilience and productivity of Tanzania's marine ecosystems (see separate story on Page 10).
This is said to be going hand in hand with the Kilimo Tia (Agricultural Productivity) programme, in which the agency will provide $16 million to support Tanzanian farmers with a focus on women and youth and respond to the global food security crisis.
Through climate-smart seeds and targeted technological improvements, the US government promised that its investments are intended to help mitigate the impacts of climate change while increasing the production of highly nutritious horticultural goods.
Vice President Harris also commended President Hassan, describing her as a "champion" of democracy.
This was in apparent reference to President Hassan's pro-democratic and pro-business stance that have seen the country making a complete shift from the policies of her late predecessor John Magufuli.
"On the subject of economic growth, good governance delivers predictability, stability and rules which businesses need to invest," Harris said, describing President Hassan as a "champion" of democracy.
"There is so much potential for growth here."
Guided by an inclusive leadership style whereby she appoints committees of experts to analyse a situation and advise her on the next course of action, President Hassan has taken several decisions during the two years that have left a hallmark of her governance record. For instance, in January this year (2023), she lifted a six-year ban on political rallies imposed by her predecessor.
The decision was part of President Hassan's 4Rs initiative - Reconciliation, Resilience, Reforms and Rebuilding.
Announcing the lifting of the ban, President Hassan acknowledged that parties had the right to hold rallies but she urged them to be "civil" and not to "trade insults" Dr Magufuli had banned rallies in between elections in what was seen as an attempt to weaken the opposition.
He dismissed rallies as a waste of time and money and said they detracted from the key challenge of building the economy.
In February last year (2022), President Hassan also lifted a ban on four newspapers that were shut down under Mr Magufuli.
Tanzania Daima, Mawio, Mwanahalisi and Mseto were banned during the Magufuli era when the government at that time said they were troublemakers and unethical.