What 758 new telecom towers mean for Tanzania's rural economy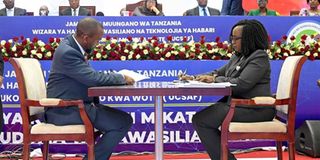 What you need to know:
The concept delivers a huge economic benefit to millions of individuals who live in rural areas and have been impeded by significant communication barriers
Dar es Salaam. President Samia Suluhu Hassan yesterday witnessed the signing of rural telecommunication projects that will provide communication services to 8.5 million people who have no access to the network.
The contracts will see five telecommunication companies build 758 new towers worth Sh265.3 billion in 713 wards on the mainland and some 304 other towers that currently provide 2G internet services upgraded to 3G and 4G, according to the Minister for Information, Communication, and ICT, Mr Nape Nnauye.
The projects are implemented by the telcos in partnership with the government, which provides up to 40 percent of the financing as grants, while the mobile network operators top up the remaining 60 percent.
The projects are implemented under the state-run Universal Communications Service Access Fund (UCSAF), which was established with the aim of delivering and achieving communication services for citizens living in a few urban areas and many remote rural areas with no commercial appeal for telecommunication service providers.
A similar project was inaugurated in Zanzibar last year and now access to network services is estimated at 99 percent.
The companies that signed the agreement yesterday include Tigo, which will build 262 towers; Vodacom, which will build 190 towers; Airtel, which will build 168 towers; TTCL, which will build 104 towers; and Halotel, which will build 34 towers.
President Hassan asked the government officials to ensure they support the implementation of the projects by quickly issuing the construction permits and reviewing some of the charges to reduce operational costs.
"I direct all local councils to ensure that the construction permits are issued within a month," she said in Dodoma after expressing concerns that the permits have been delayed by up to six months.
She also asked the Rural Energy Agency (Rea) to make sure that all the towers are connected to electricity to reduce the cost of running generators.
According to her, one tower runs at Sh1.8 million per month using a diesel-powered generator, but the cost could be reduced to Sh400,000 if connected to the grid.
She also asked the government officials to review the charges of lying about the telecommunication infrastructure along the road reserve by the companies.
"These charges were set at a time when we were thinking that telecommunication services were not that important and that rural people were not benefiting. Today, we are expanding to rural areas, and we need to make sure that they get affordable services," she said.
"We need to understand that adding operational costs to the telecommunication companies will be reflected in the cost of bundles," she added.
"Spreading better communication services will stimulate growth in almost all economic sectors, therefore making the rural dwellers part of the country's development, which we are pushing," said President Hassan.
"We want to stimulate business activities in villages and easily connect farmers with the relevant markets and technologies that will provide useful information to them," she said.
She said health services will also improve in rural areas through telemedicine services, which can play a critical role in addressing maternal and child mortality in villages.
Mr Nnauye said the government had so far signed 19 contracts with the telcos and provided grants worth Sh199 billion in an attempt to ensure service provision to 15.1 million people.
"In reality, it's difficult for telecommunications companies to invest in rural areas where the economy is still low. That's why the government formed this fund to specifically ensure all people have access to communication services, in partnership with the service providers," said Mr Nnauye.
Mr Nnauye said UCSAF had announced a tender for 763 wards, and the operators subscribed to 713 of them, equivalent to 93 percent.
He said it was a success, as previously the firms only reached 60 percent.
Speaking on behalf of the Tanzania Mobile Network Operators Association (TAMNOA), Vodacom Tanzania PLC managing director Mr Philip Besiimire said the companies had invested a total of Sh6.5 trillion in the telecom sector.
"We will continue expanding our network to provide services to more Tanzanians," he said, adding that Tamnoa members have also invested Sh300 billion in the national ICT backbone.
"We promise to participate in and implement the Tanzania digital project. Our aim is to connect all people with the world in different aspects like education, health, and economy," he said.
He said the companies have also invested Sh28 billion in social impact projects in the last five years.
On the other hand, World Bank country director Nathan Balete said the institution was "proud to be associated with" the project.
"Advancement in technology can have a great impact on the way people interact locally and globally," he said, adding that digital communication through voice, messaging, video and data-sharing applications is essential in both business and personal life.