What Kamala Harris' visit to Tanzania holds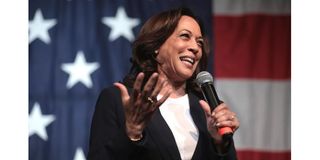 Summary
Expectations are high that the coming of the US second in command will bolster ties with Tanzania in areas such as trade, tourism, education, health, agriculture, environment, information and communication technology (ICT), as well as security and defence
Dar es Salaam. US Vice President Kamala Harris arrives in Tanzania today amid optimism for further improving bilateral ties between the two countries.
Expectations are high that the coming of the US second in command will bolster ties with Tanzania in areas such as trade, tourism, education, health, agriculture, environment, information and communication technology (ICT), as well as security and defence.
The visit comes almost 11 months after President Samia Suluhu Hassan visited the US, where, among others, she also met with Ms Harris on April 15, 2022, where the two leaders pledged strong ties between the two nations. During the tour, various US companies pledged almost $1 billion in investments to Tanzania.
Startups and innovation stakeholders say the coming of Ms Harris means a lot to them, particularly because the US Vice President will, among other things, meet with the Tanzania Startup Association (TAS) and speak with youth and emerging entrepreneurs.
The expectations of those who spoke to The Citizen yesterday range from setting the stage for unlocking capital, improving policy and regulations, and knowledge transfer to developing the ability to build products that count in the eyes of the globe. Sahara Ventures Chief Executive Officer Jumanne Mtambalike exuded his optimism that Ms Harris' visit will open a new chapter for cooperation in the field of start-up economies. He said it was his expectation that her coming would unlock capital through venture capital and private equity funds.
Tanzania, which ranks eighth on the continent in terms of attracting startup financing, clocked in $80 million through 11 deals, according to Africa: The Big Deal, the 2022 report.
"Start-ups around the globe are significantly funded by the US. There are reputable companies there," said Mr Mtambalike, who doubles as the TAS board member.
He went on to add, "This (the visit of the US Vice President) is a great opportunity for start-ups and the ecosystem to benefit in terms of capital."
This, he said, should go in tandem with a discussion on how to improve regulations and policies that govern the operations of start-ups.
"Unlike Kenya, Nigeria, South Africa and Egypt, most of the policies and regulations are not in favour of start-up growth," asserted Mr Mtambalike. When it comes to startup financing, Nigeria is first in Africa after attracting $1.2 billion, followed by Kenya, Egypt and South Africa, which garnered $1.1 billion, $823 million and $555 million, respectively.
Mipango App co-founder Lilian Rabi said it was their expectation to share with Ms Harris their struggles, especially with access to funding at the seed stage and an underdeveloped local angel investor and venture capital pool.
"We hope she can influence investors from the US to invest in Tanzanian startups directly or through local partnerships," said Ms Rabi.
She said while a lot had been done to accelerate non-technical capacity building, little had been done to produce more developers in the market and technical training to catch up with current technologies like AI, blockchain, robotics, and machine learning.
"We are optimistic she could influence the US-based technical incubators, accelerators and universities to partner with local entities to tackle the problem," she underscored.
She added: "We are excited to share the innovations we have built for our markets, whose potential is to grow across Africa and then globally."
Tunzaa Fintech founder and CEO Ng'winula Kingamkono said Ms Harris' visit will highlight to US investors the available opportunities in the tech sector.
He also believes the US will make a commitment to helping start-ups with hard or technical skills so that Tanzanians could be able to come up with innovative products that will draw the world's attention. "To me, building capacity to produce quality products comes first. Funding is driven by good products that deserve it," noted Mr Kingamkono.
TSA chief executive Zahoro Muhaji said Ms Harris' visit will provide room for discussing the available opportunities in Tanzania and the US' tech and digital economy.
Given the fact that the US is among the world's top giants in technology and the digital economy, Mr Muhaji said the visit by Ms Harris will spur cooperation between the two countries.