Why Australia considers East Africa as gateway to African economy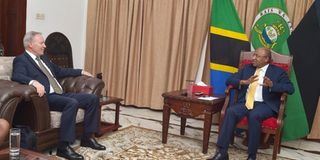 What you need to know:
The Australian High Commissioner to Kenya and East Africa, Luke Williams, explains why his government is banking on East Africa as the centre for significant economic development on the African continent, so much so that they are relocating their African trade commissioner from Johannesburg to Nairobi. He shares more details in an exclusive interview hosted by The Citizen managing editor, Mpoki Thomson.
QUESTION: What is your key takeaway from your service in East Africa now that your tenure is coming to an end and you are about to retire altogether?
ANSWER: I will be finishing my three years of service as Australia's High Commissioner to Kenya and East Africa on November 20, 2023, and then I will retire. Having served as Australia's diplomatic representative to East Africa for the last three years, I have seen a significant change in how the Australian government engages with the region. I started my service at a time when Australia had somewhat retreated on the level of engagement it had with East Africa and Africa more broadly on a number of fronts.
When we had a change of government, the new government very early on stated that it wanted to reinvigorate Australia's engagement with Africa. This involved a deliberate decision to appoint a new role of assistant minister for Foreign Affairs with the specific task of engaging more directly with Africa. Already, the minister, Tim Watts, has visited a number of African countries, including Kenya, where he visited in February this year, marking the first visit by an Australian minister to East Africa since 2015. We've also had a parliamentary delegation visit Kenya in December last year, and our gender and equality ambassador visited Rwanda and Kenya in July this year. There will also be ministerial visits to Tanzania in the future.
So this level of engagement reflects a new determination for Australia to realise the benefits that will come from enhanced relationships with this region. Those benefits will come in a number of ways, but if I were to point out a major turning point, it would be the decision by the Australian government to relocate its trade commissioner for all of Africa from Johannesburg to Nairobi, so that the focus going forward will be East Africa, where significant economic development in Africa will be taking place. This represents a significant development in the economic and trade investment narrative.
How is Australia helping Tanzania address the various challenges affecting the agricultural sector, considering that it is one of the key priority areas in Tanzania-Australia relations?
We have headquartered an agricultural agency in Nairobi called the Australian Centre for International Agricultural Research (ACIAR).
It has a $26 million programme for Eastern and Southern Africa. We are using all the lessons that have been learned with arable and semi-arable farming in Australia and applying them here.
We work very closely with a range of governments, including the Tanzanian government. The program might not have much visibility, but it makes a real difference on the ground. We try to bring out greater agricultural productivity in East Africa.
There was a time when insecurity along the East African coastline and in the Indian Ocean was alarming due to Somali pirates. We saw a quick response from the international community. How has Australia helped to fortify maritime security and work with East African coast guards?
We have moved significantly from the days of Somali pirates in the Indian Ocean, where there were a lot of high-profile hijackings of ships. Now there is a recognition that members of the Indian Ocean Rim Association (IORA) need to work closely together to deal with maritime security issues, which are not just about the physical threats; issues like climate change are invading that space and becoming security challenges. Through IORA, we are addressing such challenges.
Australian companies have invested over $40 billion across Africa. Nine out of the 11 framework mining agreements signed by Tanzania this year are with Australian companies. What's Australia's outlook on the mining sector in Tanzania?
Australian companies are arguably the most visible or present in Africa's mining sector. We have been relied upon by many African governments to help in the extraction of those mineral resources. Most of Australia's mining activities have taken place in West and Southern Africa. But over the last two years under President Samia, we have seen a deliberate attempt to promote Tanzania to international investors and the community, particularly in the mining space, to show the world that Tanzania is open for business.
Tanzania is sitting on some of the largest mineral resources in the world, but most of them are untapped to date. Now, Tanzania is increasingly becoming a preferred destination. Australian companies are now signing agreements and developing exciting new projects in Tanzania. But this is only the tip of the iceberg. There is great optimism around Tanzania among Australian investors, which was never the case before. Tanzania has this reputation as a sleeping giant, but it's now ready and able to develop the policies and legislation that would encourage foreign investors to come onboard. It is a very positive turn of events.
What are some of the challenges that still remain that the government needs to address?
I think the major challenge is realising that Tanzania is in competition with other countries in Africa for foreign investment. You have to find the right balance between ensuring that revenue and capabilities are delivered locally and in sufficient numbers to benefit the country and being able to ensure that international investors see a benefit for themselves.  However, the plan should be viable for all parties because investors also have to see a return. The exciting part is that this balance is easily achievable, as long as neither side becomes too greedy.
Tanzania and Africa, overall, are seen as destinations for sourcing minerals, which are then used to develop some of the world's leading technologies, such as smartphones and batteries. What makes it difficult to develop such technologies in Africa, where the minerals are sourced?
It is inevitable that this will happen. The reality is, when it comes to rare earth, for example, there are only a few locations internationally where the infrastructure exists to be able to process the raw minerals. Investors have to make a decision on what their long-term interests are to be able to invest in that sort of infrastructure.
We've seen vehicle manufacturing firms relocate from Europe to Africa. Naturally, over time, Africa will be seen as a destination for relocating or locating processing capabilities. What investors are interested in is the return on their investment.